Are you wondering what to serve with ratatouille? This vegetable stew can come in handy as a main course or as a side dish.
Ratatouille is a popular dish in the French countryside and incorporates summer vegetables, such as eggplant, tomatoes, zucchini, and red pepper.
And because it's a versatile dish, you can always serve it with any side—whether it's meat, vegetable, bread, or rice. What's more, you can have it any time of the day!
That said, this post will walk you through some of the best sides of ratatouille. Even more, I'll provide you with the recipes of each side to make your work more effortless in the kitchen.
This post may contain affiliate links. Read my disclosure policy here.
15 Best Sides For Ratatouille
1. Flank Steak
Flank steak makes a great addition to ratatouille—it's juicy and even more tender in a slow cooker. Not only that, it's an inexpensive cut of beef and blends with virtually any meal. So, why not give your ratatouille that meaty flavor you've always craved for?
That said, flank steak tastes better when cooked al dente, so do not overcook it. Then, cut it into slices when you're ready to serve and enjoy!
2. Oven-Roasted Pork Chops
Apart from beef, you can never go wrong with serving your ratatouille with a side of roasted pork chops. They are moist and tender to counterbalance the freshness of your vegetable stew. You can also add brine to prevent the chops from drying out.
This recipe calls for a few ingredients, including pork chops, peppercorns, garlic, salt, pepper, and bay leaves. So all you need to do is flash-fry your pork chops in a hot skillet and then oven-roast them to perfection. You can skip the brine, but it goes a long way to make your meat juicy.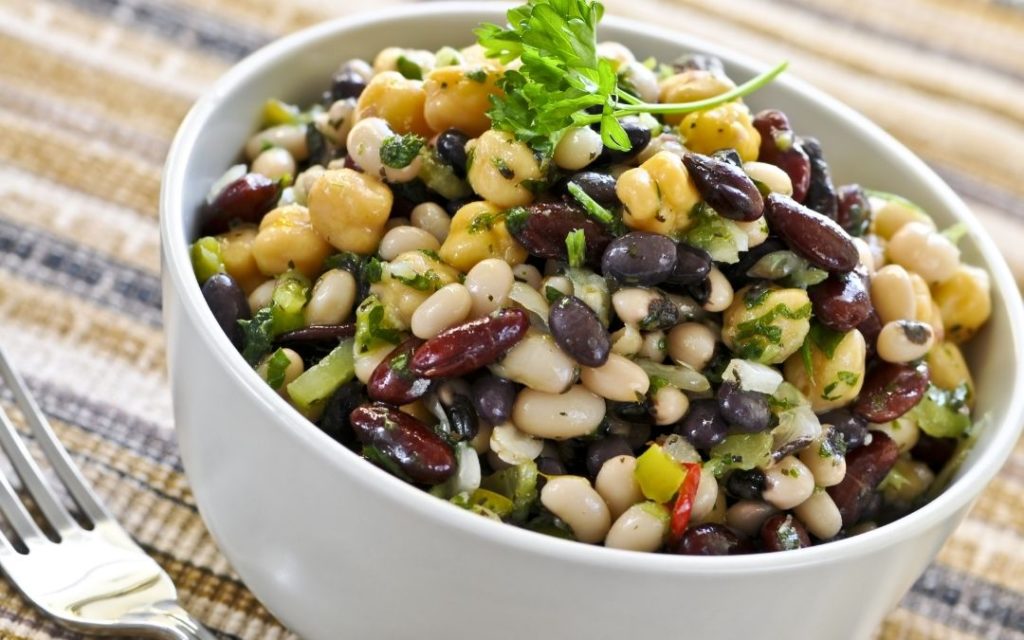 3. Bean Salad
Who said you could never serve ratatouille with a side of veggies? What if your vegetarian friends or family members are stopping by your house? You can always count on a vegan meatloaf with lentils or bean salad to make your day.
Chickpeas are also an excellent alternative for side dishes. Just mash them up and add a small amount of tahini, then serve with crackers. However, if you prefer beans to chickpeas, then go ahead and make a side of a 3-bean salad, bean burgers, or baked beans with bacon.
4. Fluffy Quinoa
Quinoa is an excellent alternative to rice, although it's not grain-like. It's versatile and cooks pretty fast. This recipe calls for only two ingredients (water and quinoa), but you can always incorporate various herbs and spices to make it super delicious.
You can also swap the water for chicken broth and add your favorite combination of spices to give your quinoa a bit more flavor and make it fluffy. What's more, you can make big batches of quinoa and store them in the fridge for grab-and-go lunches and dinners.
5. Lamb
As you already know, anything juicy goes well with ratatouille. But it can never be better with a perfectly seasoned leg of lamb. It's the most popular pairing in the French countryside for a good reason.
It's marinated in olive, garlic, lemon, thyme, salt, and pepper to provide a strong umami flavor, which sets off the subtleness of ratatouille. These two will undoubtedly delight your taste buds with their delicate balance.
6. Garlic Butter and Herb Roast Chicken
Chicken also blends with everything, and this is great with vegetable stew. You can serve it with ratatouille and some bread to sop up all the stew broth. If you have a bottle of wine in the fridge, you can turn this meal into a feast.
Dress up the chicken with some herbs and garlic butter and oven-roast it to perfection. Place it on the oven pan and shallow roast for about one and half hours or until ready. Without a doubt, this garlic butter and herb roast chicken blows away any rotisserie chicken.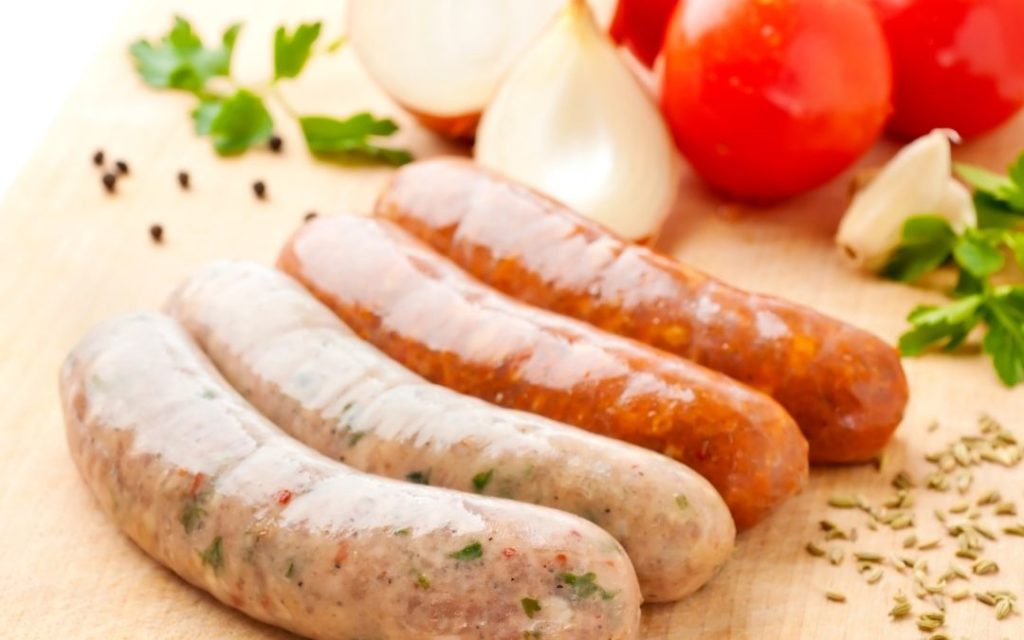 7. Italian Sausage
You can serve sausage on its own with potatoes or with onions and peppers in a casserole. And because ratatouille isn't necessarily a vegan dish, you can incorporate sausages for the meat lovers in your family.
Grab some crumbled Italian sausages and sprinkle them over your ratatouille for a meat explosion. Better still, use some of that sausage fat to cook your vegetables for an even tastier ratatouille. This might not be as healthy, but the flavor combination will undoubtedly delight your taste buds.
8. Scrambled or Fried Eggs
While eggs are often associated with breakfast, you can always have them any time of the day. Serve your ratatouille with some fried or scrambled eggs and a few slices of French toast to sop up the delicious sauce from the stew.
You can make a lot of meals from this combination, so get creative and let those childhood memories scream in every single recipe. You can also serve your eggs with rice or pasta for a tasty, satisfying meal.
9. Polenta
As you get into a new routine at home or work, all you want is to get into that kitchen and whip something satisfying. And that is only possible with polenta—it's versatile, tasty, and easy to prepare. Furthermore, it forms a serving base for Bucco, Osso, Oxtail, short ribs, and vegetables, such as mushrooms and broccoli.
Polenta is best served hot with shredded cheese and chives as toppings. It can also be coated in flour and shallow-fried in a skillet. Polenta makes a significant impact on rice, pasta, and potatoes. You can also mold it into a loaf while hot.
10. Gourmet Mushroom Risotto
If you aren't familiar with Risotto, it's an Italian rice dish that is moist and creamy. Risotto is an excellent addition to beef, chicken, and vegetables. The recipe calls for butter, white wine, and a mixture of white and portobello mushrooms with shallots.
The secret to making a perfect risotto is to simmer and stir it continuously. Meanwhile, the rice should cook al dente—should not be hard in the center but resist the tooth slightly. This Italian dish supplements grilled meats and chicken perfectly.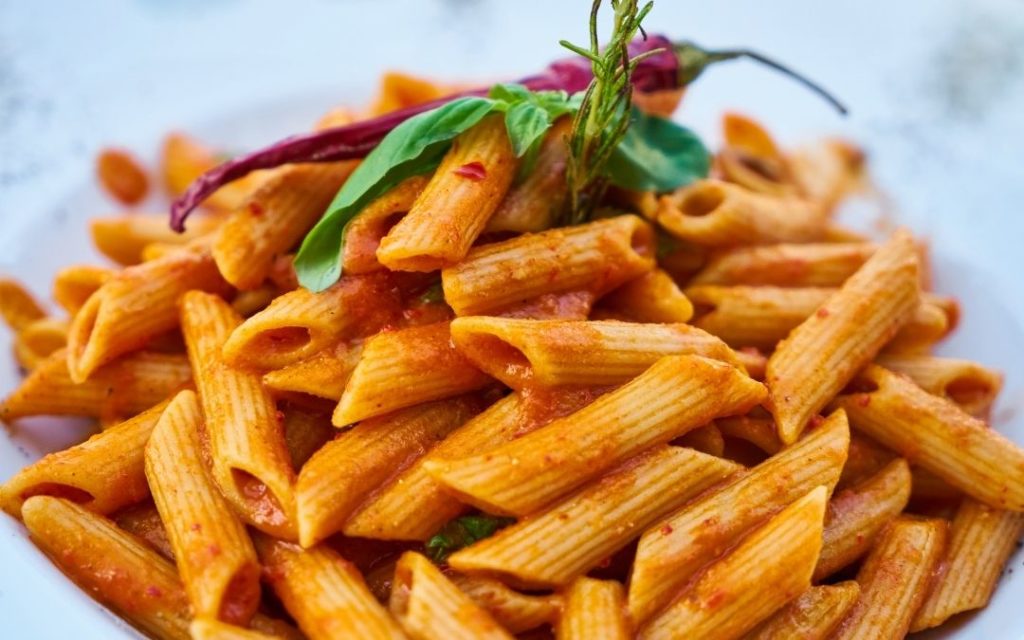 11. Pasta
Sure, you can serve your ratatouille with a side of pasta. The combination is an Italian-American dish, and the caramelized sauces from the stew complement the pasta very well. The best part about this meal is that you can use whichever noodles you have at hand—from fusilli, penne, and spaghetti.
This recipe calls for freshly grated parmesan, pasta, and ratatouille, but you can also use pappardelle topped up with some basil and feta. To further brighten up the dish, compress some lemon extract over the ratatouille.
12. Rice Pilaf
Ratatouille and rice are other pairings incapable of going wrong. But here's another type of rice that might delight your taste buds even more—rice pilaf. This combines rice, orzo pasta, vegetable, or chicken broth in a smooth buttery texture.
This recipe uses chicken broth, but you swap it for vegetable broth or beef stock. The broth adds moisture and flavor, but any flavorful liquid will do. Then, garnish the top with some slivered almonds and sliced green onions to make it more appealing.
For a simple and healthy lunch or dinner, serve your ratatouille with a bowl of steamed rice. You can also add some basil and sun-dried tomatoes for an added touch of flavor. Together, these two make a tasty, filling meal.
13. Chicken Ratatouille
Chicken and ratatouille is another match in heaven. Whether it's roasted or grilled, the chicken will give your vegetable stew an extra punch of flavor. Serve it with a side of garden salad and bread for a healthy, satisfying meal.
Fill a bowl of fresh vegetables with grilled chicken tenderloins for a simple, hearty meal. Together, chicken and ratatouille will make a wholesome meal packed with proteins, fiber, and nutrients. Since ratatouille tastes better the day after, you should prepare ahead of time so that it's ready in about 15 or 20 minutes.
14. Crusty Bread
Besides rice, ratatouille also hungers for the goodness of bread. Whether it's a sourdough, baguette, ciabatta, or Tuscan, crusty bread makes a great accompaniment to the vegetable stew. Not only does it create an excellent sponge to soak up the stew broth, but it also enhances the overall taste of your ratatouille.
However, if you feel that bread isn't enough to complement the stew, feel free to add another meal of your choice. Also, it doesn't have to be French bread; a nice thick slice of sourdough bread will wonderfully go well.
To make this crusty bread, grill the slices with olive oil until ready or toasted. You can also have a small bowl of balsamic vinegar with olive oil for dipping your bread to make them even more crusty.
15. Red Wine
Unsurprisingly, ratatouille can also stand on its own despite being an all-veggie meal. Furthermore, this vegetable stew is amazingly hearty and flavorful as a stand-alone—I bet you'll never crave meat or anything else once you have a taste of it.
Sure, a glass of wine will complement your ratatouille pretty well, and you can never go wrong with Shiraz. Its flavors go well with tomato-veggie dishes, which is what ratatouille is composed of. Let those childhood memories scream in your ratatouille by turning this simple meal into that of a king.