Grilling is an easy tradition to start at any age! To get started, one only needs a modest investment in some equipment and a little bit of outdoor space – Barton Seaver
Nobody ever tells you about the hidden pleasures and incredible moments of ecstatic joy that you'll experience when you first embark on your personal grilling adventure.
Grilling doesn't just get into your blood, it becomes a way of life, and the more time that you get to spend in your yard with your grill, your friends, your family, and good food, the more you begin to crave it and want it.
That's usually the moment when you realize that there's more to life than just going to work and paying bills and that you were born to grill.
This post may contain affiliate links. Read my disclosure policy here.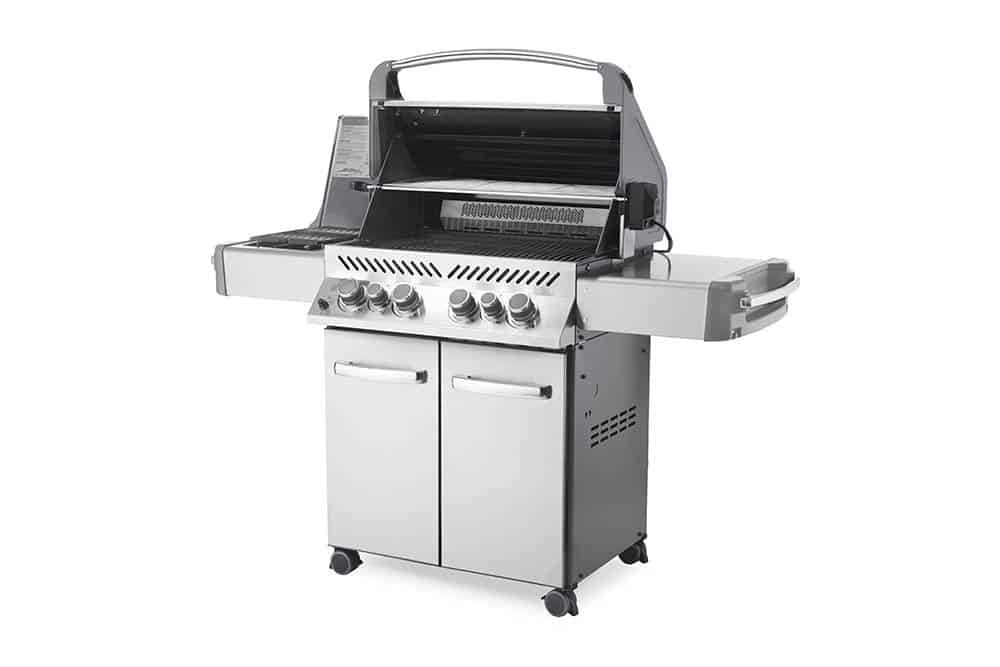 When you've readily accepted your destiny, the urge to grill becomes overpowering. It becomes an itch that you constantly need to scratch, and the more you give in to it, the more grilling power you'll inevitably want and need.
The grill that you started cooking with just won't be able to cut it anymore and in order to satisfy your desire to cook for your friends and family, you'll need to up your grilling game and take the next step on your culinary journey.
But with so many grills making all sorts of outlandish grilling promises, finding the right gas grill to guide you to grilling glory isn't exactly easy.
I've been where you are now, I know how frustrating trying to find that elusive grill can be. And I know like you do that the only way to reach grilling heaven is by cooking with gas.
That's why I've compiled a list of the best four-burner gas grills that can help you to raise the grilling roof because everyone knows that four isn't just nature's ideal number of limbs, it's also the perfect number of burners for a grill.
It's time to level up and become the grilling god that you were always meant to be…
OUR TOP PICK
Weber Genesis II E-435 4-Burner Liquid Propane Grill
EDITORS CHOICE
BEST VALUE
Blackstone Cooking 4 Burner Flat Top Gas Grill
OUR TOP PICK
The de facto, go-to name for home grillers everywhere, Weber has more grilling patents and innovation under their apron than the rest of the grilling world combined.
And they should do, as Weber invented the kettle barbecue and unleashed it on an unsuspecting American public in nineteen fifty-two and they haven't slowed down or stopped since then.
The Genesis II is Weber's awe-inspiring yard grill, and as it's fueled and powered by liquid propane, if you grill the Weber way, you won't be chained to your home's gas supply, you and your Genesis will be able to cook where you want and when you want.
While I'm on the subject of cooking, I should probably mention that the four burners on the Genesis are independently controlled, and between them can generate sixty-nine thousand BTUs (British Thermal Units) of heat to grill with, which is just the sort of stratospheric number that you'll be looking to attain with your next level grill.
As well as having all the storage room that you'll need to keep all of your grilling equipment in one place, the Genesis II also has an additional side burner, so if in the incredibly unlikely event that you do need some extra grilling power, the Genesis has it covered.
With a combined cooking area of eight hundred and eighty-four square inches, the Genesis II is the only gas grill that you'll ever need, or want.
Pros
All Those BTUs – With sixty-nine thousand BTUs of heat at your disposal, the Genesis II has all the grilling power that anyone could ever want or need.
Powered By Propane – As it's fueled by liquid propane, you won't have to go where the gas is, the gas will come to you. And thanks to its easy-to-use fuel level indicator, you'll always know when you need to swap the bottle and how much fuel you have to grill with.
GS4 – The Genesis II uses Weber's patented GS4 grilling system, which includes their new flawless Infinity Ignition, simple to use grease management system, stainless steel flavorizer bars, and high-performance burners. In other words, it's the racing car of gas grills.
Weber Warranty – The Genesis II is also equipped with Weber's bulletproof ten-year warranty, so if anything does go wrong with it, Weber will be on hand to take care of the problem.
Cons
It's A Bank Breaker – All of that grilling pedigree comes at an eye-watering price, and if you're going to invest your grilling future in the Genesis you might need to take out a second mortgage on your home to pay the price that Weber demands.
EDITORS CHOICE
It's time to head North of the border with the next four-burner gas grill on my list which was designed, engineered, and built by the pride of Canada, Napoleon.
Forged from steel and made to grill whatever the weather, the Prestige 500 is the flagship grill of Napoleon's cooking fleet and comes with all the bells and whistles you'd expect and enough built-in grilling features to make Gordon Ramsey weep with joy.
The four separately controlled burners on this free-roaming (as long as you have enough gas to keep its burners fired, you can take the Prestige with you, wherever you go), propane-powered grill produce forty-eight thousand BTUs of grilling heat, that you can use to whip up a myriad of different dishes on its five hundred square inches of cooking space.
Its battery-free, failsafe ignition uses a jet of flame to kick the burners into life, and as long as you have a supply of propane, you'll be able to satiate your grilling appetite with the Prestige 500.
And if you're overcome by the need to sear the perfect burger or steak while all of the burners on the Prestige are otherwise occupied, you can just drop the meat on the side sear station and its high-powered infrared heat will do the rest.
Napoleon might not be the first name on your grilling list, but as soon as you've fired up the Prestige they'll be the only name that you ever think about again.
Pros
Has Gas Will Travel – The Prestige is a jaw-dropping, propane-powered grilling dream that you can take anywhere and everywhere with you. However, as it's kind of if bulky, unwieldy and built to survive, and keep on grilling after, the apocalypse, you probably won't want to take it on vacation with you. But just knowing that you can offer up a whole other avenue of unexplored grilling opportunities.
Upping The BTU Power – With forty-eight thousand BTUs of gas-generated heat at your fingertips from four burners, there isn't anything that you can't and won't be able to grill with the Prestige 500.
Battery-Free Ignition – They do things a little differently North of the border and Napoleon uses good fashioned, and always reliable, fire to ignite the burners on the Prestige at the touch of a button.
The Sizzle Zone – The all-searing, infrared side-fitted sizzle zone can sear steaks, burgers, and any other kind of meat that takes your fancy up to eighteen hundred degrees. That's a lot of sizzling.
Cons
The Financial Burden – Napoleon doesn't cut corners, and they don't believe in doing things the budget-conscious way, which means that the Prestige isn't cheap. In fact, it's the furthest thing from cheap that you could possibly imagine, and installing it in your yard will probably break your bank account
BEST VALUE
Blackstone knows that outdoor cooking isn't just an American tradition, it a worldwide passion, and they've taken the best of the global grilling scene and infused it into the design of their four-burner, flat-top grill.
It might look a little different, but trust me it's got it where it counts, and under its hood, it's got all the grilling power that you'll ever need.
Okay, so I know that strictly speaking, it isn't a grill, it's a griddle, but you shouldn't let that sway your decision, as this griddle packs a mean grilling punch.
Its four separately controlled stainless steel burners deliver a combined total of sixty thousand BTUs of heat, that can be used to create four different cooking areas on its seven hundred and twenty square inches of cooking space.
And all of that grilling and griddling power springs into life at the touch of the push-button ignition that the Blackstone uses.
While most grills claim that they're portable, the Blackstone is one of the few four-burner enabled units that actually is.
Purpose designed to give you all the professional cooking power of a high-end restaurant kitchen and to be light(ish) and easy to move at the same time, the Blackstone is a dedicated backyard griller's culinary weapon of choice.
Pros
Four Burners, Four Areas – The Blackstone's four gas burners are independently controlled and can be used to create four different cooking areas on the griddle plate, which makes it incredibly easy and versatile to grill and griddle with.
All That Heat – And between them, the Blackstone's four stainless steel burners can create a combined heat of sixty thousand BTUs, which is more than enough grilling power to satisfy even the most fervent griller
Touch Button Ignition – Blackstone keeps things simple, and as soon as you switch the propane on, you'll be able to fire the griddle up with a single touch of its push-button ignition
On Wheels – This four-wheeled grilling and griddling miracle is fully portable and easy to move and will griddle and grill wherever you want to, whenever you want to.
Cons
Manufacturing Issues – Some less than satisfied grillers have complained that the griddle isn't up to the grilling tasks that they've set for it and that it isn't everything that they thought, and hoped it would be.
RUNNER UP
Royal Gourmet is driven by a passion for outdoor barbecue and grilling and that their love affair with the lure of the grill, pushes them to do everything that they do with flair.
All they care about is making affordable grills that can fit in with the budget of the average American family and help to change their lives for the better. After all, life is always better when you're grilling.
Again, rather than following the traditional idea of a grill, Royal Gourmet, like Blackstone, has elected to follow the griddling way, and the four burners that that their "grill" (or griddle if you prefer) uses can create four separate grilling areas that the seven hundred and ninety-two square inches of its total cooking surface can utilize and optimize to help to turn you into a griddling and grilling genius.
And those burners will also deliver a staggering fifty-six thousand BTUs of combined heat at your command.
With its touch button ignition system, easy to empty oil cup, and straightforward controls, Royal Gourmets four burner grill and griddle was made to simplify your life and put the joy back into backyard barbecuing and grilling.
Pros
Bringing The Heat – The Royal Gourmet's four burners are capable of delivering a combined heat of fifty-six thousand BTUs, which is more than enough grilling power for any amateur or professional to weave all of their grilling magic with
The Power Of Four – It's four independently controlled burners can create four different cooking areas on its seven hundred and ninety-two square inches of cooking surface, which can help you to master the delicate arts of grilling and griddling
Push Button Ignition – All you need to do is turn the propane on, turn the burners up, and hit the push-button ignition and you'll be ready to begin grilling and griddling in the blink of an eye.
Cons
You Get What You Pay For – The Royal Gourmet grill is cheap, and according to some of the less than satisfied grillers who have used it, so are some of its parts. It isn't the sturdiest grill you'll stumble across, which could be a problem if you're looking for a griddle that'll last for the duration of your amateur cooking career.
RUNNER UP
Char-Broil has been designing and building the grills, smokers, and griddles that have put America on the outdoor cooking map since nineteen forty-eight.
They're the grilling hub which the barbecue scene rotates around and in their more than seventy-year history at the heart of the industry, they've learned a thing or two about making grills.
And every little bit of everything that they've learned has helped them to bring this four-burner gas grill to life.
It may not be the biggest or the most powerful grill in the world, but its four burners will produce a combined heat of thirty-six thousand BTU's which you can use to make sure that every inch of its four hundred and ninety square inch cooking surface is used properly.
And if you do run out of room, you can always use the ten thousand BTU side burner to pick up the slack and join the party. Char-Broil has thought of everything, so all that you have to do, is grill.
Pros
What's In A Name? – While I'd normally argue that names are just for tombstones and birth certificates, when it comes to taking the Char-Broil name in vain, that's where I draw the line. What's in a name? If you're Char-Broil, everything.
All The Heat And Space – Thirty-six thousand BTUs of heat and four hundred and ninety square inches of cooking space might not sound like a lot, but unless you're planning to grill for your entire neighborhood on a regular basis, it's all the grilling power that you'll ever need.
Cons
Build Quality – Someone at Char-Broil must have been asleep at the wheel when some of these grills rolled off the factory floor, as there's a bunch of less than happy grillers who don't think that they got the grill that they paid for.
Best Four Burner Gas Grill Buying Guide
Which Four Burner Gas Grill Is The Right One For Me?
It all comes down to your budget. Figure out what your budget is and take another look at my list, and as soon as you do, the right four-burner gas grill will jump straight out at you.
That said, if you have the sort of budget for your grill that most folks would spend on a second car, then the only gas grill that you should even consider is the Weber Genesis II.
If you don't have that sort of budget though, and money is an issue, then you'd be better off (and almost certainly much happier) grilling and griddling the Blackstone way.
Frequently Asked Questions
What Is A Four Burner Gas Grill?
A four-burner gas grill is a grill that's been made to cook outdoors and as well as being a yard fixture, can also be taken on vacation to help the nights spent in the wilderness pass by a little easier with some great home-cooked food.
Using either propane or natural gas as their fuel source, these grills use four separate burners to bring the heat to whatever it is that you're grilling.