Summer lunch plans need to be simple and not complicated. When you have an organized recipe list of ideas, knowing what to cook during summer lunch hours doesn't need to stress you out. But before that, you need to understand what your family loves and use that as a starting point.
I have rounded up a list of top kid-approved summer lunches you can prepare for your family. They are simple to prepare, and the best of all is that I have included a recipe you can refer to if you want to take a shot at it. Keep reading to find out what recipes I've got for you today.
This post may contain affiliate links. Read my disclosure policy here.
11 Kid-Approved Summer Lunches
1. Vegan Hummus Avocado Wrap
This is one of the most straightforward kid-approved summer lunches, and that's why it tops my list. With ripe avocado or leftover kept in your fridge and hummus (rich in protein), you can prepare this vegan hummus avocado wrap.
If you want to have it crunch, adding some salad greens or sprouts will be a significant advantage. You may want to leave out tomatoes if you send this vegan hummus avocado wrap to school.
Next time you buy an avocado from your local grocery and can't finish it, keep it in the fridge and use it later to prepare vegan hummus avocado wrap for your kids. At least, they will have something to eat for lunch or when they are back from school.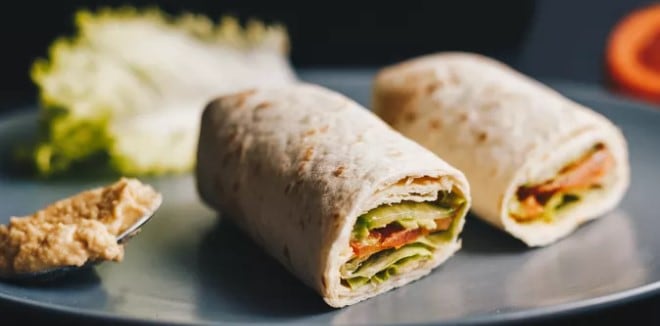 Go to Recipe
2. Deep Fried Corn Dogs
These deep-fried corn dogs are excellent for you if you are looking for one of the best and kid-approved summer lunches. You can prepare them ahead of time and put them in the freezer to freeze. Whenever you want to serve this dessert, just reheat it in the microwave.
The best thing I love about these deep-fried corn dogs is that they are easily customizable. You can use regular hot dogs, mini smoked sausages, or even mini hot dogs. So you don't have to worry that you don't have what's recommended in the recipe.
You can wrap them in cornmeal batter before deep-frying them for the best results. Since this recipe doesn't require many ingredients, you can complete preparing it in a couple of minutes and serve it to your family.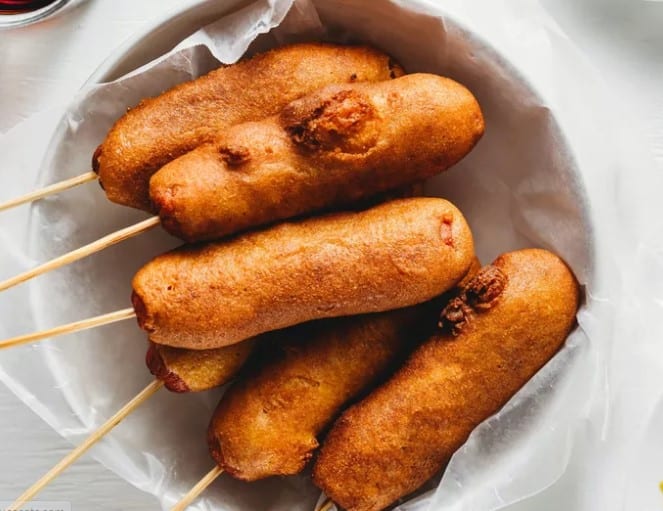 3. Macaroni and Cheese
Nobody has ever gone wrong when preparing cheese and macaroni—whether making it for the first time or trying it a second, third, or fourth time. The best way to go about it is to use ramekins, while you can do the mac and cheese in muffin cups.
You can use macaroni prepared at home or purchase one at your local store, depending on what your kids love. I love this recipe because you can keep the leftovers in the freezer so you can use them in the future.
If you choose to keep your leftovers, you'll need to wrap them in foil before letting them in the freezer. You can serve this meal as a side meal or as your primary family's meal—that's up to you and your preferences.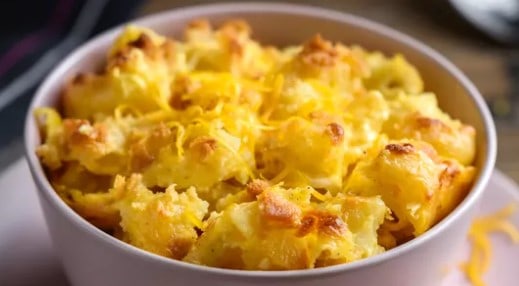 4. Cheesy Meatball Bombs
Most kids love meatballs, and they'll be pleased if you prepare these cheesy meatball bombs for them. You can include some marinara sauce and mozzarella to top up these cheesy meatball bombs. This summer lunch recipe is simple to prepare, so trying it out shouldn't be a problem.
These cheesy meatball bombs are best for parties, but you can still prepare some for your family, especially for lunch. Besides using this meal for lunch, it can also be an excellent appetizer and a perfect weeknight dinner for busy moms.
While I have provided an Italian recipe below, feel free to tweak it a little bit if you want a different outcome from what's in the recipe. Additionally, it must not be an Italian meatball—feel free to use any frozen meatball you have on hand.
5. Avocado Toast
Kids love creamy foods, so it's a no-brainer that this avocado toast will keep them craving more, especially during the summer. You have many options on how you can serve this kid-approved summer lunch, but I recommend trying it with slices of bacon.
Even though this avocado toast has been known as a breakfast meal, it still serves as a perfect lunch meal. Depending on the meal you want to pair this with, you and your kids will have a perfect lunch they will keep talking about.
There are also numerous toppings you can use on this avocado toast. You'll find a variety of toppings you can use from the recipe below so that you can choose your best. Please go through it and make the best avocado toast your kids will love.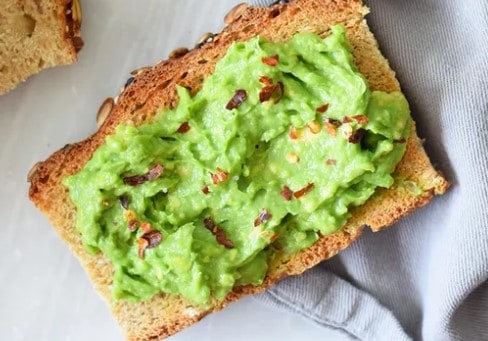 6. Easy Tuna Melts
It's not the first time moms have admitted that tuna melts are a favorite for kids. The best of all is that this summer lunch is easy to prepare, making it the better option for busy moms who have busy schedules throughout the week.
This recipe only requires three ingredients so that you can save some cash on your meals. While this meal is best for lunch, it can serve your family for both weeknight dinners and a snack. You can add some tossed salad and sliced tomatoes to the side.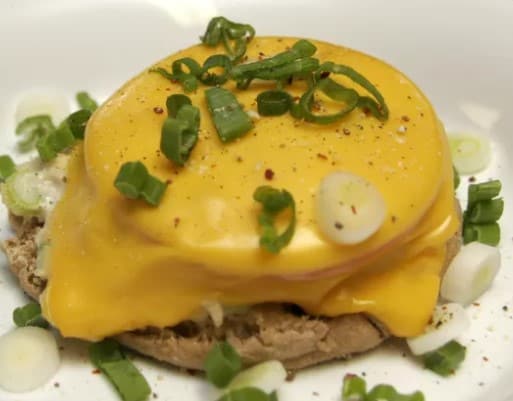 7. Meatloaf Muffins
If you want to try out something new from the average meatloaf, give these meatloaf muffins a try and see if your family will love it. There is nothing complicated about this recipe—all you need to do is bake meatloaf in muffin tins if you're looking for smaller servings.
Meatloaf muffins are the perfect summer meal for lunch when you are on a tight schedule and wouldn't want to waste a lot of time in the kitchen. If you wish your meatloaf muffins to be moist enough, add some eggs to the mixture.
You have all the flexibility to customize this meal to your preferences. For example, you can include some grated carrots in them, and nobody will notice quickly. Once prepared, serve with mashed potatoes, fries, or even chips.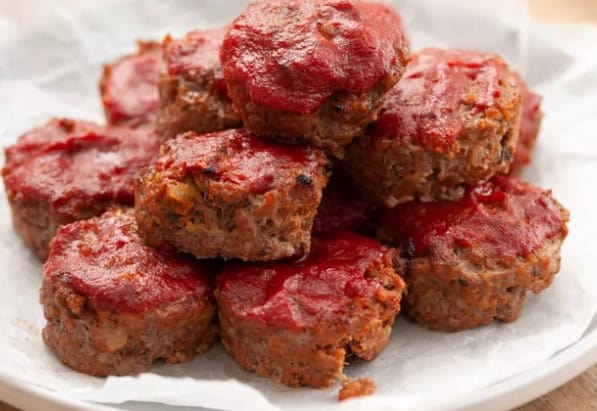 8. Pepperoni Pizza Sliders
Pizza is undoubtedly high on the list of party foods and a must-have for watching a big game. However, when you have many people attending, ordering several pieces from the local pizza store can be costly, making homemade pizzas time-consuming.
While homemade pizzas are inexpensive, sometimes all we want are those pizza flavors. This recipe calls for mini brioche rolls—the enriched buttery dough with a light texture and flavor. However, you can choose whatever bread for the sliders, depending on your preferences.
This dish uses pepperoni toppings, and because it's completely customized, you can swap the sliders for peppers, broccoli, or mushrooms for a vegetable kick. And sausage or cooked ground beef for a meaty flavor.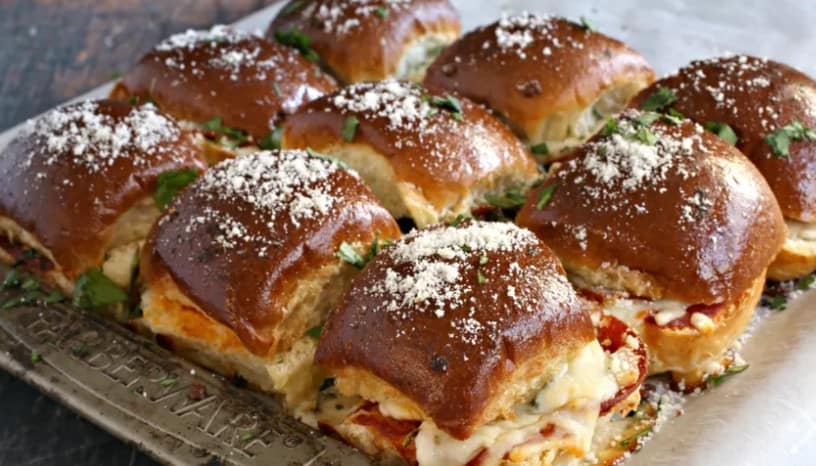 9. Vegetable Beef Soup
Vegetable beef soup is a traditional, satisfying dish that can feed up to ten people, make great leftovers and freeze well if you want to prepare in bigger batches for later. The combination of beef, vegetables, potatoes, and rice cooked with some smokey bacon, makes this soup an ultimate comfort food.
Beef shanks (soup bones) are an excellent base for making beef stock and add flavor to soups and stews. Besides, they offer a significant amount of meat and add texture to various vegetable soups. You can add to whatever veggie you have in the fridge.
If the bones you're using are low in meat, you can add a pound of diced beef chuck or round and toss together with the beef chunks. This is an excellent meal for lunches or family dinner on a cold night.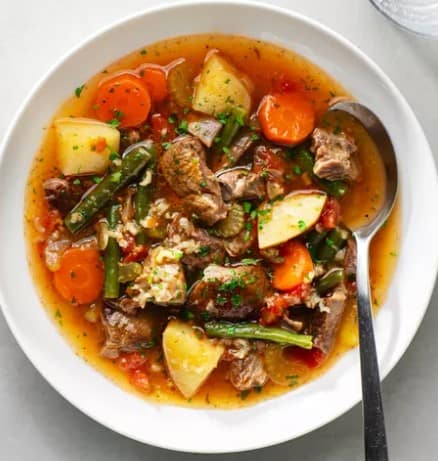 10. Chili Biscuit Cups
These tiny chili biscuit cups are an excellent snack for a party or a big game. Alternatively, serve them with fries or tortilla chips for a simple lunch or family meal. Refrigerated ready-to-cook biscuits, leftover chili, and your favorite toppings come together to make these lunches super easy!
For a more vegetarian recipe, use canned beef and bean chili or no-bean chili. As for the toppings, you can use chopped onions, bell peppers, sliced scallions, crushed tortilla chips, diced fresh tomatoes, or sliced ripe olives. Serve your baked chili cups with a side of sour cream or guacamole.
Prepare this recipe in bigger batches and freeze half of them for future treats and lunches. To make the prepping even simpler, scale the recipe for a crowd or prepare to double the batch. This way, you don't have to worry if more people turn up for the party or event.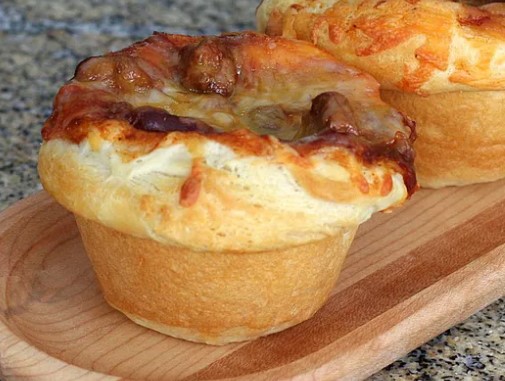 11. Pork Barbecue Biscuit Cups
As with any pork product, there's always plenty to freeze for later. This is the perfect recipe for leftover pork barbecue. Serve these flavorful biscuit cups with a side of coleslaw or chips. They make an excellent go-to lunch with a cup of soup or salad.
Since this recipe is customizable, you can swap pulled pork for shredded beef or pulled chicken. You can also make many meals with your leftover pulled pork, so don't worry if you have more left from the barbecue party.
Pulled pork leftovers can make excellent dinner for a busy weeknight or when you don't feel like cooking. If you don't have any leftovers, you can buy ready-made pulled pork in barbecue sauce from the grocery store.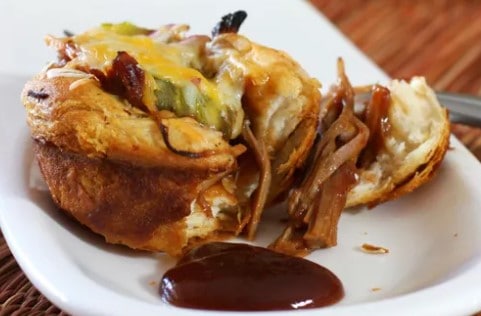 Conclusion
Honestly, you don't have to fret about what you will prepare for your family during summers when you have this in-depth list of kid-approved summer lunches you can quickly whip up for your family.
Whether you have tried any of these recipes before or have other kid-approved summer lunches you have prepared before, please leave a comment and let me know what your kids' favorites are.