Having a large family is a blessing, but it can be downright frustrating to develop a meal plan that will suit the whole family.
However, the advantage is that you'll always find someone who wants to eat, even when you are too exhausted to think about what to prepare.
This will push you always to develop a meal plan so that your family can get what to feed.
In this post, I will walk you through all you need to know about large family planning – from the basics to how you can save budgeting for a large family. 
This post may contain affiliate links. Read my disclosure policy here.
Meal Planning Basics
Before you start planning your family meals, there are a few things you need to know:
1. Do You Have a Grocery Budget in Mind?
You don't need to have a detailed budget worked out, but you'll need to understand how you can split your budget across different sets of produce you'll purchase. Additionally, you may want to compromise on some items to save. In other words, you need to have a clear understanding of how you will split your budget.
2. Do You Need any Resources or Cookbooks?
Do you follow any cooking trends? Or do you have any cookbook preferences? Are you going to plan your family's meals digitally, or you love putting down everything on paper? The bottom line is that you want to gather all the resources (notepad, pen, smartphone, Pinterest, etc.) you'll need and enjoy your extensive family meal planning process. 
3. Have a Shopping Style and Menu Plan
Do you have any preferences as to when you will be out shopping? Is there anyone you'd like to emulate with their large family meal planning process? In my opinion, it's better to be innovative a not reinvent the wheel. Instead, test out different styles and develop your unique menu plan and shopping style.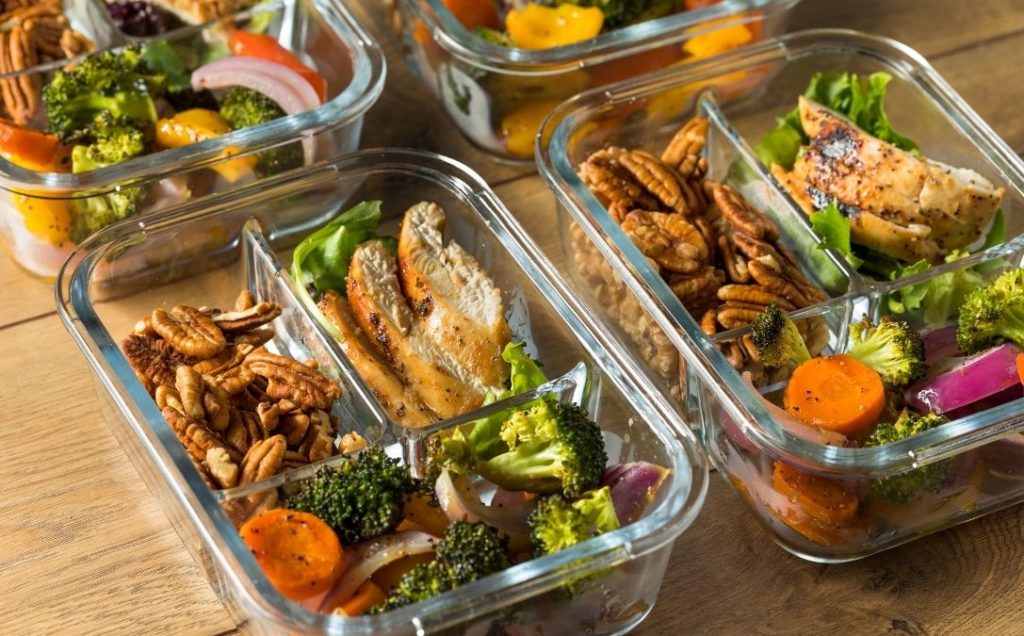 How Do I Plan Meals for My Large Family
1. Find Some Time to Plan Your Meals
Taking a few moments of your time to plan your family meals will help you save money and your time in the long run.
Like you always have your house chore routine, have a meal planning routine and stick to it.
Tons of meal planning apps could help you come up with an idea. Alternatively, you can still go the paper way, so a notebook and a pen will help. 
2. Plan Further – Not Just Dinner
When most people hear about meal planning, they think it's only about dinner – I hope you are not a victim. Sure, planning for dinner is essential, but you need to look further for an effective large family meal planning – breakfast and lunch. Planning three meals every day sounds like bulky work, but it makes quite some sense with a large family.
3. Shop Your Pantry
Most of my friends forget about when meal planning is to check their pantry and see what they what's in store and what they might need to pick from the grocery. Assumptions can mess you up by making duplicate purchases. This will hurt your budget and even worse, some of your items could go bad, leading to waste.
4. Take Advantage of Grocery Store Circulars
A large family can screw your bank accounts, but there are ways you can ensure you keep your spending low while still feeding your family appropriately. Check any store ads before you start meal planning for your family. Find out what items are on offer and can allow you to prepare budget-friendly meals for your family.
5. Learn to Rotate Meals
You need to start theming each day with a food category you'd want to cook. This saves you from the hassle of thinking about what to prepare your family even when you have items in your pantry and freezer. For example, you could designate a chicken night or pasta night. Besides saving you time, this hack also helps you rotate different meal types.
6. Do One-Dish Meals
If you don't want to spend extra on purchasing different food items to feed your family on a balanced diet, doing one-dish meals is a good idea. For example, quiche, pasta, and casseroles can be served as one dish with veggies, starch and proteins in them.
7. Keep it Simple
You are meal planning to save you time and make your work easier – not hard. In other words, you need to keep your meal plan simple.
If you realize that you are struggling to plan your family's meals, the chances are that you are trying very hard to make it perfect.
These large family meal planning ideas I'm walking you through should make your meal planning process more straightforward and not contribute to more headaches.
8. Stick to Your List
Once you have a list, you must stick to it unless there is an emergency. Sticking to your list reduces your overall spending. You'll find yourself impulse buying when you go out of your list. However, you can always omit this, especially during grocery deals when you can purchase some items cheaply.
9. Get Your Family Involved
The advantage of having a large family, especially when meal planning, is that you can involve them in telling you their favorite meals.
Write down the suggestions every family member makes and then sit down to prepare a menu using the list of favorites you have.
Once you have written all the items down and prepared a menu, put it in a central place where each member of your family can access it.
10. Don't Lose Momentum
It can be challenging to keep the momentum with a large family plan, but you should follow it to a tee. The first week will always be fun because you are trying out a new idea.
You will feel a little bit lazy to follow your meal plans in the second week, but you need to keep the momentum. This is usually the most challenging week, but good for you if you can keep the momentum of following your meal plan.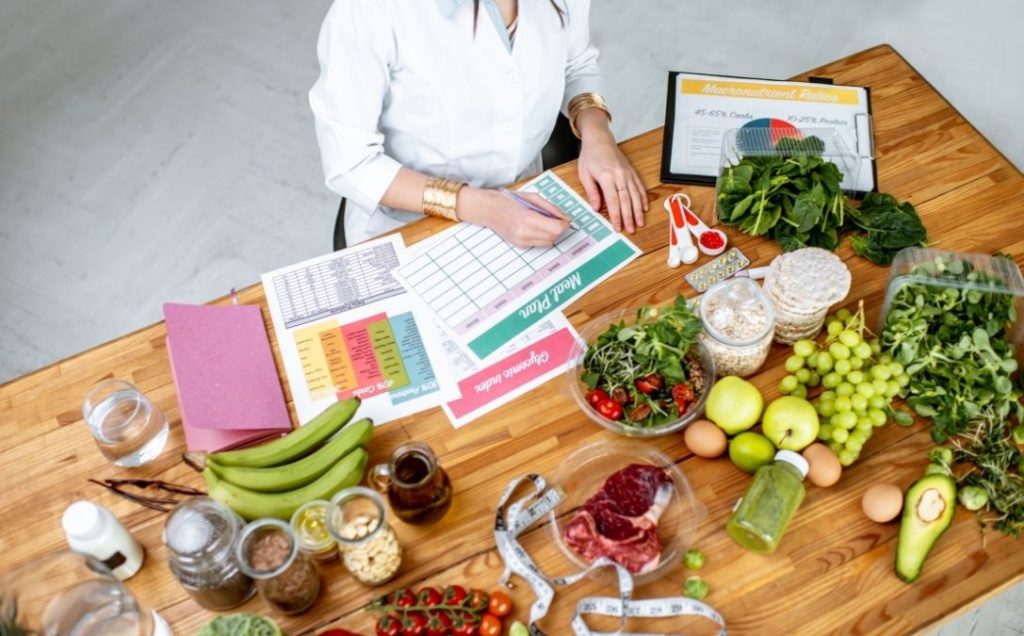 Tips to Help You Save When Planning Large Family Meals
1. Leverage Your Freezer
The freezer should be your friend when you are managing a large family. It will help you minimize food waste and save you from the hassle of going out every day to shop at the grocery.
Depending on when you choose to go out shopping, having a freezer will let you worry less because you can store your entire week's produce in the freezer. Rather than throwing food every time, your freezer will keep your food items fresh for an extended period.
2. Prepare Your Dinners Considering Lunch
As I said earlier, it's not all about dinner when preparing a meal plan – you also need to consider lunch. When you prepare meals that could also serve your family for lunch, it would be a good idea to cook a little extra. So instead of cooking lunch the next day from scratch, you can use last night's leftovers.
3. Shop Seasonally
Shopping seasonally is good for you, especially when you have a large family. Purchasing your kitchen items during specific seasons means you could get some produce at lower prices because of their abundance. Check out what's in season in your local area and see if it's worth adding to your pantry stock.
4. Get More Low-Cost Healthy Staples
Another smart idea when you want to save meal planning for a large family is to get more low-cost healthy staples. There are situations when you can arrive home late due to an extended meeting at work or due to traffic.
Instead of panicking or sticking to your meal plan, you can use the food items you have in the freezer or pantry to cook for your family—stock up on shelf-stable and frozen items that can keep indefinitely. Pasta, grains, lentils, etc., are good examples.
Canned foods can also come in handy. While most people still think that canned foods are the "usual grandma's green beans," canned items are now harvested and packed when still very fresh. Some of these canned veggies and fruits may contain more nutrients than fresh produce at your local grocery.
5. Find the Best Grocery Store
Finding your best store can be a big stepping stone towards saving when meal planning for a large family. You can decide to prefer a store because it has lower prices than the rest, or because it's near where you reside.
If you are on a shoe-string budget, it's better to look around for stores with affordable prices. It doesn't matter whether you give preference to one, two or three stores. The bottom line is that you want to have two stores to purchase items at an affordable price.
6. Practice "FIFO"
You probably met this concept back in your college days, but just to remind you, FIFO means First-in-First-Out. In other words, those items or goods you have in store must first move out before you can top them up.
This concept is important when making a meal plan, especially on a tight budget. Instead of impulse buying, you'll have to wait until the items you bought during your previous visit to the store are over. This way, you'll be limiting waste and keeping your expenses low.
Bottom Line
Meal planning doesn't have to be a challenge anymore with these 10+ actionable tips. With careful planning and discipline, you can make one of the best meal plans that will save you time and money and save you from the hassle of thinking about what to prepare your family every day. Do you have any questions? Please leave a comment below and I'll do my best to reply to your comment.