Forcing your spaghetti into a pot that's too small isn't good pasta practice – there won't be enough water to sufficiently cook your pasta, and it'll also take longer to cook, meaning your pasta will end up with a clumpy texture.
Then comes the straining: precariously tipping the pasta into a strainer while strands of spaghetti slip out into the sink.
If this sounds like you, it's a sure sign that it's time for you to get a new pasta pot.
This post may contain affiliate links. Read my disclosure policy here.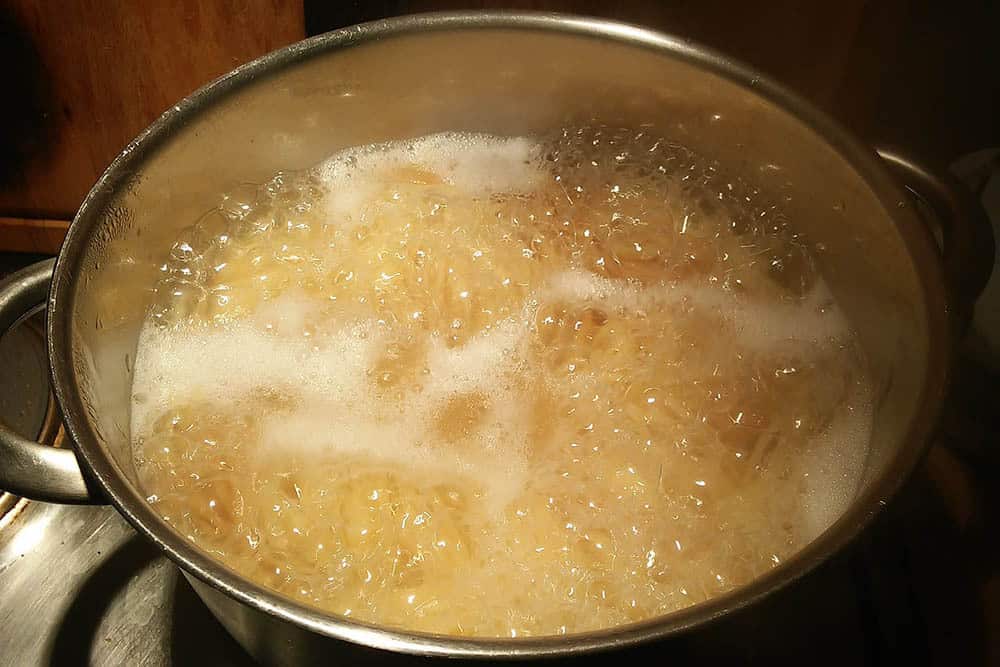 A dedicated pasta pot is not only designed to be big enough to fit long strands of spaghetti in but they're usually dedicated to making straining a whole lot easier, too.
These little things can make a big impact on the taste of your pasta, and how easy the cooking process is.
In this article, I've compiled a list of the best pasta pots on the market, along with a buyer's guide and an FAQ section to help you narrow down your choice and find the best pasta pot for you.
OUR TOP PICK
Gotham Steel 5 Quart Multipurpose Pasta Pot
EDITORS CHOICE
Bialetti Oval 5 Quart Pasta Pot with Strainer Lid
BEST VALUE
Cuisinart 77-412 Chef's Classic Stainless 4-Piece
OUR TOP PICK
This Gotham Steel 5 Quart pasta pot has 'stay cool' twist-to-lock handles which remain cool even under high heat, and stay locked in place so you can easily flip the pot over in the sink to drain the water out – without worrying that your food or the lid will fall out.
The lid is made of durable tempered glass which can withstand being dropped to provide extra peace of mind.
The lid has a built-in strainer on both sides with two different sizes: strain boiling potatoes with the larger holes and peas or similarly sized foods with the smaller holes.
This pot is not just great for boiling either, as it has an oven-safe design up to 500 degrees thanks to its inner Ti-Cerama coating. It's also non-stick, eliminating the need for overuse of oil, and is free of PTFE/PFOA/PFOS.
You can prep, cook and bake all in one pot, making it ideal for anyone who doesn't have a great amount of cupboard space for endless utensils.
Plus, it's for more than just pasta: cook anything from potatoes to popcorn to eggs, and no need to worry about cleaning up – simply pop the pot in the dishwasher to clean.
Pros
Multipurpose pot
Non-stick, oven-safe coating
Free from PTFE/PFOA/PFOS.
Twist and lock handles for easy, safe draining
Two built-in strainers
Durable, tempered glass lid
Dishwasher safe
Cons
The non-stick coating will gradually wear away if you put the pot in the dishwasher a lot.
EDITORS CHOICE
This 5-quart pot from Bialetti has an elongated oval shape inspired by Italian style and design.
It's perfect for cooking all types of pasta, from spaghetti to penne, to lasagne. It's also ideal for cooking more than just pasta, including soups, potatoes, vegetables, stews, and more.
The lid features a twist and lock mechanism and draining holes to make straining your pasta easier and safer, while the heat-resistant handles stay cool even when the pot is boiling hot.
The pot is made from durable aluminum for even heating, and also has a non-stick coating that is PFOA-free to ensure the safety of you and your family.
The non-stick properties of this pot provide more even heat dissipation and make clean-up a lot easier. I also really love the striking one-color design which comes in a choice of black, red, blue, purple, or regular stainless steel.
Pros
Twist and lock mechanism keeps the lid in place
Built-in draining holes for easy straining
Accommodates any type of pasta shape or size
Heat-resistant handles stay cool when the pot is hot
Durable aluminum design
Non-stick, PFOA-free interior
Cons
A minority of people had issues with the lid fitting poorly
BEST VALUE
With this 12-quart pasta pot, you'll have no trouble cooking mounds of spaghetti for your family, and with a 'chef's choice' stainless steel design and mirror finish, this set from Cuisinart provides both performance and a professional look.
The aluminum encapsulated base heats quickly and allows for even heat dissipation – eliminating hotspots that can cause your food to cook unevenly.
Stainless steel is always a great choice because it's durable, doesn't discolor, and won't interfere with the flavors of your cooking.
It's also great for classic cooking techniques like slow simmers, rolling boils, and reduction of liquids.
This pot has cool-grip handles to ensure you can easily and safely lift the pot when it's hot, and the tapered rim enables drip-free pouring.
This pot also comes with a flavor lock lid which seals in moisture and nutrients for healthier and more flavorsome results, and the measurement markings help you to achieve more accurate portion sizes, meaning less wastage.
Everything in this set is also dishwasher safe, so you don't need to worry about hand washing after use.
Pros
12-quart size is ideal for families
Stainless steel design is durable and reliable
Aluminum encapsulated base heats quickly and evenly
Tapered rim enables drip-free pouring
Flavor-lock lid for more flavorsome result
Measurement markings allow for easier portioning
Dishwasher safe
Cons
When filled with water the size of this pot means it's heavy to lift.
RUNNER UP
If you're looking for a high-quality pasta pot, this durable aluminum 8-quart pot from Rachael Ray Bright could be the one for you.
It's made from durable, hard-anodized aluminum for long-lasting, even-heating performance, and has a PFOA-free nonstick coating for effortless food release, healthier cooking, and easy cleanup.
The elongated oval shape is ideal for fitting in spaghetti or noodles without having to cram them into the pot, while the pour spout ensures easier straining and pouring.
It's also versatile enough to be used in the oven, and is oven-safe up to 350 degrees F, and is suitable for all stovetops, except induction.
The pot comes equipped with dual-riveted, rubberized stainless steel handles to provide comfort and control when lifting and straining, and the glass lid keeps heat locked in and is shatter-resistant for extra durability.
The nonstick interiors and clear-coated exteriors are dishwasher-safe for quick and easy clean-up every time you cook.
Pros
Elongated oval shape to easily fit spaghetti and noodles
Hard-anodized aluminum for superior heating and durability
PFOA-free nonstick coating easily releases food
Oven-safe up to 350 degrees F
Rubberized handles for comfort and control when lifting
Shatter-resistant glass lid
Dishwasher safe for easy cleanup
Cons
It's expensive
No built-in strainer
RUNNER UP
This 5-quart pasta pot has a non-stick copper-infused ceramic surface with anti-scratch technology to provide greater durability and even heating.
The ceramic nonstick coating is bonded to aluminum so that heat is evenly distributed, providing more even and efficient cooking and avoiding hotspots. The non-stick coating is also free of PFOAs or PTFEs.
This pot has been designed to make strainer spills a thing of the past. The special locking handles snap into place to keep the lid secure while you drain your pasta.
You also have a choice of two different sets of straining holes in the tempered glass lid: the small ones are great for smaller veggies, pasta, or ground meats while the larger ones are ideal for bigger pasta shapes, eggs, and large cuts of meat.
The riveted handle design provides an easy grip and stays cool so that you can move comfortably between the stove and sink.
Thanks to the non-stick coating, the 'better pasta' pot is super easy to clean – there's no scraping or scrubbing required.
For light use, simply wipe with a cloth, otherwise, a mild detergent and warm water will do the trick and will help maintain the non-stick coating. However, it's worth bearing in mind that it isn't dishwasher safe.
Pros
Non-stick, copper-infused surface for even heating and healthier cooking
Built-in strainer holes with a choice of two sizes
The locking mechanism keeps the lid in place for easier straining
Riveted handle design provides easy grip and is cool to the touch
The non-stick coating is safe and contains no PFOAs or PTFEs
Cons
This can't be washed in the dishwasher – handwash only.
Best Pasta Pots Buying Guide
Size
Average pasta pots are between 6 and 8 quarts, and the pot should be filled ¾ of the way or about 4-5quarts for every pound of pasta. Pasta should be completely covered with water to allow it to adequately cook and expand; if there's not enough water it will become mushy and sticky.
If you're cooking for a big family, you may wish to go for a 12-quart pot, but bear in mind that this will be heavier to lift between the stove and sink.
Material
There are many different materials to choose from when it comes to cookware, and each material has its own pros and cons.
Stainless steel
Stainless steel is used by professional chefs. It's durable and will last for years, is easy to care for, and won't react with food, it also provides rapid, uniform heating for reliable cooking results.
The drawbacks are that they're sometimes tougher to clean unless they have a non-stick coating.
Non-stick
Non-stick cookware is extremely easy to clean as food comes away from the surface with ease. They also reduce the amount of oil needed, meaning you can cook healthier meals.
The primary material will determine the temperature you can heat it to. Most use aluminum and can be used on any type of cooktop, including induction, as well as the oven, too.
The downside of these pots is that they scratch easily, so you should use wooden utensils when cooking with them. Also, while many manufacturers claim their non-stick cookware is dishwasher safe, this isn't really the case, as washing in the dishwasher will break the non-stick coating down far quicker than hand washing.
Copper
Real copper cookware provides quick and even cooking, and cools down quickly. These pots can be expensive though, and can also dent easily.
Aluminum
Aluminum cookware is usually lightweight and durable, and it can be used on the stovetop or in the oven and is also known to cool quickly. However, there are potential health concerns associated with aluminum and its ability to leach into your food, though this depends on the coating of the pot and how well you maintain and look after it.
The aluminum usually leaches through when pots are scratched and haven't been replaced for years.
Strainer
One of the key things to look out for in a pasta pot is how easy it is for you to strain your pasta. For example, some pots come with built-in strainers which mean you don't need to use two separate utensils to drain the water. These also usually have a locking mechanism on the lid to keep it in place when you're pouring out the water.
If your pot doesn't have a built-in lid, consider any other features it may have to make this process easier: for example, some have a pouring spout to prevent spillages, while others come with a removable strainer that can be placed inside the pot.
Cleaning
One thing to consider is how easy the pot is to clean. The last thing you want is to be scraping dried pieces of pasta off the surface of your pot.
How you clean your pan depends on the material and coating, so check manufacturer guidelines first.
As I said, non-stick pans are the easiest to clean, however, even though some claim to be dishwasher safe, it's not advisable to clean your pans in the dishwasher after every use. This will wear down the pot's non-stick properties pretty quickly.
Instead, it's best to clean non-stick pots in warm water with a mild detergent, and avoid any abrasive sponges or scouring pads – a gentle cloth will do the trick. If you've used your pot for light cooking, simply wipe the surface with a damp cloth.
If being able to wash your pot in the dishwasher frequently is important to you, you might prefer a stainless steel pot instead, as these are far more durable.
Versatility
It's worth looking for a pot that is versatile and multipurpose. Most pasta pots can be used for a variety of other foods, from veggies to meats to potatoes. This is ideal if you're trying to save space – and money – and it means you get more bang for your buck.
It's also a good idea to check how you can use the pot, what type of stoves it can be used on (some aren't induction friendly) as well as the maximum temperature it can be heated to, and whether or not it's oven-safe. The more diverse your pot is, the more use you'll get out of it!
Cost
You might be wondering how much you should spend on a pasta pot.
The good news is that you have plenty of options in terms of cost. Some of the high-end options will be near to the 100-dollar mark or more, but you can find a good quality pot for less than 50 bucks.
It's worth investing in a good quality pasta pot as you'll save money in the long run. There's nothing worse than having to constantly replace your cheap cookware due to scratches and dents – and often the cost of doing so amounts to the same as one premium quality pot.
Frequently Asked Questions
What type of pot is best for boiling water?
A stainless steel pot is safest for boiling water in, as it has a higher melting point and higher thermal mass, meaning it can safely heat to the 212 degrees F needed to boil water.
What is a spaghetti pot?
A spaghetti or pasta pot has been designed to make cooking pasta a whole lot easier. They're usually bigger in size to allow for long strands of spaghetti and usually come with a built-in strainer or a colander which you insert into the stockpot before cooking.
Then, when you're done cooking your pasta, all you need to do is lift the colander from the stockpot and place the pasta in with your sauce, or if you have a built-in strainer lid, simply pour the water out in the sink, ensuring that the lid is securely fixed.
Should you salt your pasta water?
The answer to this is a resounding 'yes.'
Even when tossed with a flavorsome sauce, if you haven't salted your pasta water it will taste under-seasoned and lacking in flavor. For every pound of pasta, you should aim to add no less than 1 1/2 tablespoons of salt, or more if the sauce is very mild and undersalted.
Is stainless steel better than non-stick?
There are definite pros and cons to both stainless steel and non-stick pots, and which one is 'better' depends on your personal cooking preferences.
Stainless steel is the choice of professional chefs – it provides even heating and is super durable. On the other hand, it can be difficult to clean if food gets stuck to the bottom. Non-stick pans are super easy to clean but are less durable.
With frequent use and cleaning, the non-stick coating will wear away, and you'll soon need to replace it.