Nuts are a delicious addition to any diet, and they're full of healthy fat and nutritious properties, making them really good for you. On top of that, they're very filling, so they're often used as a healthy type of snack. You can also consume them in many different ways: as they come, toasted, roasted, salted, sweetened…something for every kind of taste!
The problem with nuts is getting them out of their shell. Because yes, nuts are tough to crack open (unless you somehow have the teeth of a squirrel or rodent!) Besides, different types of nuts have different shells, and will be easier or harder to crack open, so you can't just use the same method for all of them!
The solution is to get the right nutcracker for the type of nuts that you like consuming, or to get a nutcracker that can crack open several different types! Nutcrackers are incredibly easy to use, and they crack open a nut with ease so that you can eat the inside without causing a mess, or struggling in any way.
This post may contain affiliate links. Read my disclosure policy here.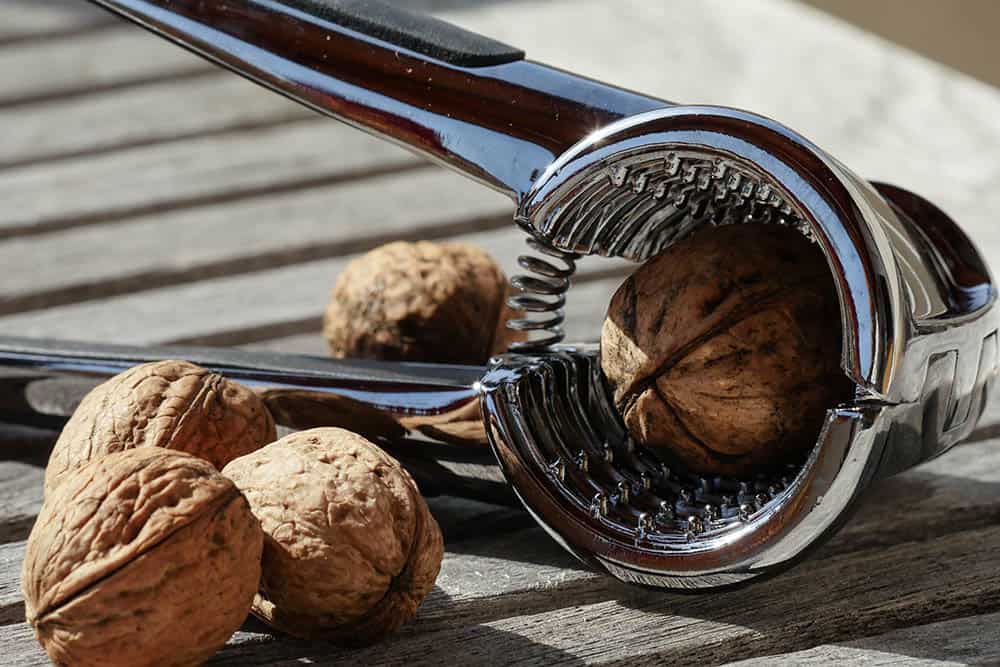 Getting a good nutcracker can make all the difference when you're in the mood for eating some nuts. The better the nutcracker, the faster and easier it will be to crack the nut open, and the smoother the entire process will be!
It's important to get the right kind of nutcracker for each nut, but it's also important to get one that is durable and high-quality.
Here is my personal list of the top five best nutcrackers available in the market, take a look through them and choose the one most suited to your nuts!
OUR TOP PICK
EDITORS CHOICE
Texan Nut Sheller 00001 Nutcracker
BEST VALUE
PistachiOpener Pistachio Nutcracker
OUR TOP PICK
Anwenk is a leading brand in the world of nutcracker, so it's no surprise that one of their products is at the top of my list! The Anwenk Heavy Duty Nutcracker is extremely popular amongst customers, with it being high-quality and reliable.
As a heavy-duty spring-loaded nutcracker, it is designed for daily use and is guaranteed to last a long time.
It can easily crack through most nuts, including hazelnuts, almonds, walnuts, brazil nuts, and many more, making it incredibly versatile.
It's easier to use compared to most traditional nutcrackers, with a high-quality wood handle that is comfortable to use.
With enameled die casting aluminum, this nutcracker will crack open the nuts within seconds, with no struggle or effort needed.
The ridges it features on the inside give it a better grip to hold onto the nuts so that they don't slip out or move as they're being cracked open.
Plus, this nutcracker can also work as a bottle opener, making it even more multi-purpose!
Pros
Heavy-duty spring-loaded: designed for everyday use, highly durable and long-lasting
Easier to use than other traditional designs: minimal effort required, you can crack open the nuts within seconds
Wooden handles: more comfortable to use
Inner ridges: it offers a good grip on the nuts so that they're secure
Versatile and multi-purpose: can also be used as a bottle opener!
Cons
The spring system is prone to breaking over time
EDITORS CHOICE
The Texan Nut Sheller 00001 Nutcracker is a close second on my list of top picks, and it is just as effective and as easy to use, favored by many customers.
It comes available in three different colors: red, blue, and yellow, with a simple and elegant design.
This nutcracker features one of the simplest designs, as it has been created to be completely practical, and as easy to use as possible.
It is made of tempered steel, built for the purpose it serves, without the need for decoration or extras. This helps make it all the more durable, and it's guaranteed to last for years to come.
The simple design means you can crack open most types of nuts extremely easily, with just a tiny bit of pressure needed to accomplish the job.
The teeth it features on its edges also trim the nut beforehand, so it provides you with a perfectly cut in half nut almost every single time! Definitely a go-to product for those that will be eating nuts on the regular and want something uncomplicated.
Pros
Available in 3 colors: sleek and elegant
Extremely simple design: Made to be as practical as possible, incredibly easy to use
Made from tempered steel: efficient and highly durable, guaranteed to last
It features teeth on the edges: trims the nut beforehand to cut it in half perfectly almost every time
Cons
It takes slightly longer to crack open the nuts than other nutcrackers, because of the nut trimming addition
BEST VALUE
If you're looking for a suitable nutcracker to open pistachios, you might find that it's a bit more of a struggle.
This is because pistachios need an opener that wedges the shell apart, rather than cracking it open, and most nutcrackers simply crack.
But the PistachiOpener Pistachio Nutcracker, on the other hand, is perfectly designed for pistachios! (Although it does mean it won't be good for other types of nuts).
This nutcracker is better described as a precision tool, as it opens up the pistachios that already have a small split in the shell.
It is manufactured with stainless steel, making it incredibly durable. So you'll never have to worry about finding a tool for your pistachios again.
It's elegantly designed, and it uses a unique splitting wedge action to open up the pistachio instantly, with minimal effort. This way, you'll be able to speed through your pistachio opening, and can just focus on enjoying them!
And although it's not designed for other nuts, it can be used to open them up so long as they already have a small slit or crack!
Pros
Pistachio opener: a precision tool specifically designed for opening pistachios
Made of stainless steel: highly durable and long-lasting
Unique splitting wedge action: it takes apart the shell by using the pre-existing slit
Works with any nut that has a slit or cracks: not designed for other nuts, but can work with them, possible versatility
Cons
Only works on pistachios or pre-cracked nuts
RUNNER UP
Another product by the Anwenk brand, we have the Stainless Steel Nutcracker, which is highly popular amongst customers, and highly recommended as a reliable and efficient tool to crack open nuts with minimal effort.
As a heavy-duty nutcracker, it has been designed for daily use, and can crack open all types of nuts, including the harder ones such as black walnut!
It has a 3.5-inch handle, designed to provide more control over the cracking process. It features a metal tip, which delicately inserts itself into the nut so that it can be cracked open without damaging the interior contents.
Made from stainless steel, it's a solid and incredibly durable cracking system that performs efficiently every single time.
It has also been designed to be compact, with a triangle shape that is easy and comfortable to use, and easy to store away when not in use.
It also features a collection box, so that the shells are instantly collected instead of falling out onto your table, making a mess.
And as this nutcracker can handle even the toughest of nuts, it's the perfect versatile nutcracker addition to your kitchen!
Pros
Heavy-duty nutcracker: made for daily use, can crack open all types of nuts, including the tougher ones such as black walnuts (which other nutcrackers struggle with)
Made from stainless steel: highly durable and long-lasting
Compact and comfortable design: easy to use and easy to store away
Includes a collection box: avoids making a mess with the shells
Cons
Can be tricky to get used to, as you need to stabilize the nut within the system first
RUNNER UP
Last but not least on my list, we have the Drosselmeyer Nutcracker, named after the town where the Nutcracker play by Tchaikovsky takes place!
It's both designed and made in Sweden, and it is internationally patented, acclaimed for its reliability and high quality. It also comes available in three different colors: black, antique grey, and red.
It is the first handheld nutcracker that has been designed with double lever action and a built-in container to collect the shells as they're cracked open.
In fact, the design is award-winning, and this product is regarded as one of the best nutcrackers on the market! (basically, you're guaranteed that it will work excellently!)
It takes minimal effort to use, and it will open nuts of almost any size within seconds. And as it collects the broken shells as it goes along, there is no need to worry about it making a mess!
It is also completely detachable so that it's easier to clean and maintain in top condition.
Pros
Award-winning design: with double lever action and a built-in container that collects the broken shells
Internationally patented: made in Sweden, considered to be one of the best nutcrackers available!
Minimal effort: easy to use with most types of nuts
Fully detachable: can be taken apart for easier cleaning and maintenance
Cons
Doesn't work with larger nuts, due to the size
Best Nut Cracker Buying Guide
Nutcrackers are an incredibly handy tool, and definitely something to have in your kitchen if you enjoy eating nuts now and then.
Their design allows them to crack open nuts with incredible ease so that you don't have to struggle with teeth and nails to get to the nut inside the shell. But as with most things, there are many different types of nutcrackers, each with its own design and features.
Getting a high-quality nutcracker is a key to ensuring it lasts a long time, and to guarantee that it can deal with the nut without breaking or causing a struggle. You also need to make sure that you're getting the right nutcracker for your needs, which includes knowing the types of nuts you usually eat.
But how can you make sure you're buying the best possible nutcracker? After all, with the number of options available, it can be a challenge to decide between one or another. Well, I personally like to take a few basic factors into consideration so that I can compare different nutcrackers and ensure they tick the right boxes.
Here is a small summary!
Materials and durability
Most nutcrackers will be made out of sturdy and solid materials such as stainless steel or similar. It's important that they're manufactured to be tough and as durable as possible, especially as they're going to be directly competing with the toughness of nutshells (and some can be pretty tough!)
The higher quality the material is, the more long-lasting the nutcracker will be, and the smoother and more effective the cracking system will be!
Nut compatibility
Not all nutcrackers can crack all nuts, this is something you need to be fully aware of. So it's important to know which kind of nuts you mostly eat so that you can get the right nutcracker for the job!
For example, not all nutcrackers will handle the tougher ones such as black walnuts, so they will usually require more specifically heavy-duty options. And nuts such as pistachios require a completely unique kind of nutcracker that doesn't crack at all, but rather wedges them open!
If you're not sure of the nuts you're going to be eating, I recommend you look for a fully versatile nutcracker that will be able to handle both small and large nuts!
Ease and comfort of use
The whole point of a nutcracker is to make cracking open nuts a whole lot easier and faster so that you can speed through the process without so much of a struggle. So it's vital that they're easy to use, with comfortable handles and a simple system.
I recommend you look out for ergonomic handle designs, and for nutcrackers that are manufactured to be practical and straightforward. No need for complications!
Overall design
The overall design of a nutcracker will include things such as its appearance and color, and how it cracks open the nuts. Usually, compact designs are a lot more convenient, as they're easier to store away inside a kitchen draw or similar. You can also find nutcrackers of all sorts of appearances and colors, so you're guaranteed to find something that matches your style.
As for how they crack the nut, there are many different designs, which will be better or worse suited for certain nuts. You also need to take into account that different designs will be faster or slower at the job.
Additional features
Once you've got all the basics covered, looking out for any useful additional features can be the perfect way to decide between one product or another. Extra features not only add convenience but also add value to the overall product, making it better.
One of my favorite features that I always recommend looking out for when it comes to nutcrackers, is a shell container box. This will usually be either built-in to the nutcracker or attached. And what it does, is collect the broken shells as the nut is cracked open. This way, you don't have to worry about making a mess on your kitchen table!
I also recommend looking out for nutcrackers that can be disassembled easily, as this will allow you to deep clean them once in a while for regular maintenance.
Frequently Asked Questions
What nut is the hardest to crack?
The macadamia nut is the one with the hardest shell to crack open, as it's incredibly tough. It's also one of the most expensive nuts to buy and consume.
However, it's full of high-quality proteins, and has a rich buttery flavor, making it especially popular in dessert recipes. Other nuts that are hard to crack open are the black walnut, as they are also pretty tough, and pistachios because they can be awkward to open and need to be wedged rather than cracked.
What nuts can you crack with a nutcracker?
You can crack all types of nuts with a nutcracker, however, you won't always be able to crack all nuts with the same nutcracker. There are many different types of nutcrackers, each suited to different types of nuts.
Do, for example, bigger and more heavy-duty nutcrackers will be able to handle tougher nuts such as black walnuts, while smaller nutcrackers will struggle to do as such, and are only suited to softer and smaller types of nuts.
There are also some nutcrackers that are completely specific to a single type of nut, such as pistachio openers, which are more of a precision tool than a nutcracker due to their unique design.