Have you ever used a charcoal grill? If you haven't, don't bother!
Charcoal grills are just soo messy. There are charcoal briquettes, and black soot and ashes that seem to get everywhere. Including on your clothing. And trying to get the stains out is a nightmare.
The solution of course is to get yourself a propane grill instead. Sure in some circles propane grills have a bad rep because they're more expensive than their charcoal counterparts. But not always…
This post may contain affiliate links. Read my disclosure policy here.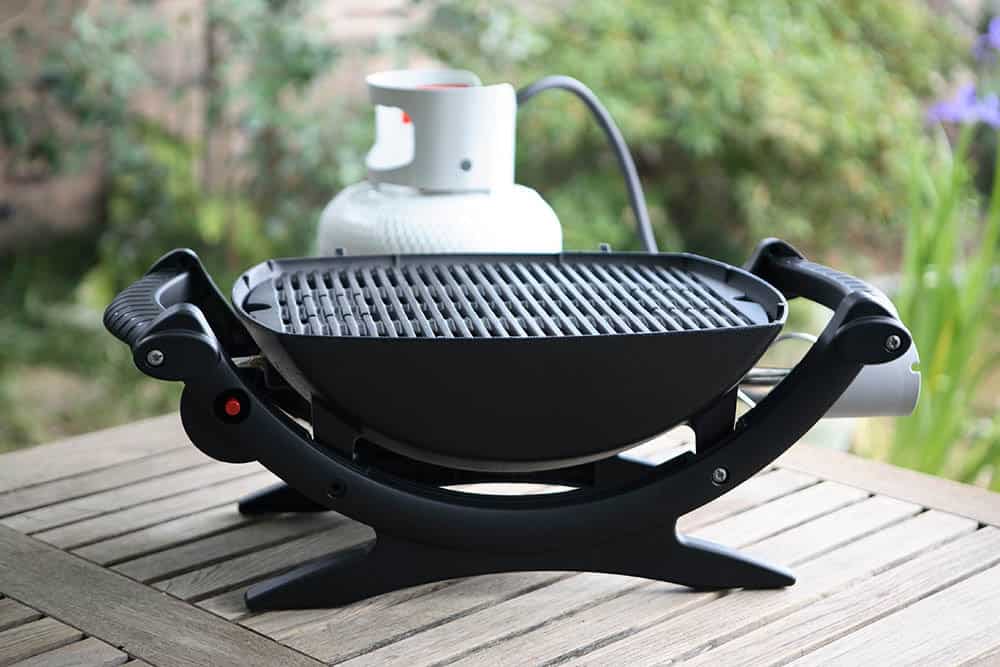 I've been checking out some of the best propane grills on the market today available under $200. After much deliberation I hand-picked my top 5 favorites to show you, and our reviews on them are coming up very shortly.
After that I've also got a handy buying guide for you which highlights some key things to think about before you buy.
You should also stick around for our section at the end where I answer some of your most frequently asked questions on the subject.
And without further ado…
OUR TOP PICK
Char-Broil Classic 360 3-Burner Propane Grill
EDITORS CHOICE
Weber 50060001 Q1000 Liquid Propane Grill
BEST VALUE
HAPPYGRILL Stainless Steel Propane Grill
OUR TOP PICK
Now, this propane grill won the Amazon's Choice title for the category of Propane Grills.
Such a title is only given to products that are not only of excellent quality but are also available at a good reasonable price. And speaking of price this comes well under your $200 budget.
Most propane grills these days are designed to be easily portable, and why you can't necessarily carry it around easily because it's on a stand, you can easily drag it across the ground using the wheels.
But don't worry it won't roll away – the wheels are on just one side and the legs on the other side will keep the grill entirely stable.
What I love the most about this one is just how much cooking space there is – a whopping 360 square inches. Big enough to fit about 15 burgers, so there's plenty of room to cook for the entire family, plus guests.
But that's not all – there's also a 170 square inch warming rack, which is perfect for toasting buns to go with your juicy quarter pounders!
It throws out huge amounts of heat, delivering a whopping 30,000 BTU's of heat. Which means your food will be ready in no time at all.
I also love the two side shelves, they're so handy for doing your food prep or for plating up.
And if you don't have a garage to store it in, you can simply leave it out in your backyard, thanks to its ability to stand up to tough weather conditions.
Or you can buy a matching cover for it if you prefer. They're easy to get hold of and are very affordable.
Pros
Winner of Amazon's Choice title
360 square inches cooking space
170 square inch warming rack
30,000 BTUs of heat
Easily portable
Cons
Some customers have found it tricky to assemble
EDITORS CHOICE
When I saw the customer ratings on this beauty I just had to see what all the fuss was about – and I was very impressed!
Did you know it earned an average Amazon customer rating of a full 5 stars out of 5? And that's even after about 2,800 individual customer ratings! Not bad hey?
It comes from top brand Weber, who are known for their top quality grills and smokers.
It has 189 square inches of cooking space, which is big enough to fit 6 burgers. So despite it's very compact appearance, you can be assured that it's plenty big enough to feed the family.
It only features one burner, but that's all you need for a grill of this size anyway, and it throws out 8500 BTUs of heat, so your food will be ready in good time.
It features porcelain-enameled cast iron cooking grates, which are very easy to keep clean.
And it has little fold out shelves which are super handy for when it's time to start plating up.
I also like how easy it is to ignite, you don't have to stand there trying and failing to light the damn thing.
I love how it comes already assembled out of the box – that's one less thing to worry about.
And it's super compact and portable, definitely something you'd want to take camping.
You can also buy this grill together with a cover, which means you can leave it out without having to worry about the weather damaging it.
Amazon occasionally has deals on this grill, simply click on "Check price" to see if there's a deal on now!
Pros
Excellent customer ratings
189 square inches of cooking space
Throws out 8500 BTUs of heat
Easy to ignite, easy to clean
Very compact and portable
Cons
BEST VALUE
Now this propane grill may not come from a top well known brand, but it does come highly recommended and has earned an average Amazon customer rating of a full 5 stars out of 5.
It's a nice shiny little grill that's made very portable with it's integrated carry handle. You can pick it up and take it anywhere. And it will fit in the trunk of your car with no problem.
But despite it's easy portability, it offers plenty of cooking space, you could probably fit about 8 burgers on there at a time, so it's certainly big enough to help feed the entire family.
And with such a big size it makes sense that there's two independently operable temperature controls. That way you can grill different items at different levels of heat, keeping some items warm while you're waiting for others to cook.
It can throw out plenty of heat too, each burner throws out 10,000 BTUs of heat, making 20,000 BTUs altogether. And it's able to go up to an impressive 750 degrees Fahrenheit.
But what really stands out about this grill is the air inlets present on three sides, getting more oxygen in, and enabling it to cook your food that much more quickly.
It has a premium stainless-steel construction and is really built to last. And better yet, the stainless-steel cooking grate offers superior heat conduction, which means your food is heated more evenly than with a regular grill.
The other thing I love about this grill is that it comes complete with a gas hose and valve, which means you don't have to buy them separately.
Amazon occasionally has deals on this grill, simply click on "Check price" to see if there's a deal on now!
Pros
HIgh customer ratings
Plenty of cooking space
20,000 BTUs of heat
Air inlets on three sides
stainless steel construction
Cons
RUNNER UP
No products found.
Now, this beauty has won the title of Amazon's Choice for the category of portable propane grills. Such a title is only given to products that are both of excellent quality and are also available at a good and reasonable price.
And "good price" is certainly correct in this instance. The price tag comes to under half of your $200 budget, and is clearly a great bargain and excellent value for money.
But it doesn't compromise on quality. It comes from one of the top brands in the industry, Cuisinart no less.
And despite the affordable price, this grill is still of a decent size and offers 146 square inches of cooking space. And it throws out 8000 BTUs of heat which is all you really need.
And it's so portable, lightweight at just 10 pounds, with compact dimensions and a handy carry handle, combined with a locking lid. And the lid also serves to lock in moisture when you're cooking your food.
But what I really love about this one is that it features a drip tray to catch all the grease dripping off your food, for much easier clean up.
And speaking of clean up, did I mention that the enameled steel cooking grates are dishwasher safe? So convenient.
There's no assembly required which is always a plus, and you can set it up to use in just 5 minutes tops. And to ignite it all you have to do is simply press the ignition button.
Pros
Bargain affordable price!
146 square inches cooking space
8000 BTUs of heat thrown out
Very lightweight and portable
Includes a handy drip tray
Cons
Be careful taking the grill out of the box because the vents are razor sharp
RUNNER UP
This grill from top brand Royal Gourmet is a bestseller with the online retailers and comes highly recommended by those who've tried it.
What I love the most about this grill is the sheer size of it. With 316 square inches of cooking space, you can cook up to 15 patties at a time.
Which means it's not only big enough to feed the family, but you'll also be able to accommodate guests as well.
I also love that it has 3 independently operable burners. This means you could have different items cooking on the grill at 3 different temperatures, so you can really tweak the cooking and get everything ready to eat at the same time.
It can throw out quite a lot of heat too. Each burner throws out 9000 BTUs of heat which makes 27,000 BTUs in total.
I love this because it means your food will get cooked in no time. And it's super easy to ignite, thanks to the piezo ignition system.
But of course what stands out about this grill is that you can also use it as a griddle and cook things like pancakes, french toast and fried eggs.
And that's not all. The griddle retains heat more evenly than grill gates so you lock in the juices and make the meat more tender,
I also love that there's a grease disposal system, a cup to collect any grease residue from your food as it cooks.
And it's portable too, small enough to fit in the trunk of your car and take camping with you. And you won't get your trunk dirty because you can stash the grill in the accompanying storage bag.
It comes with a hose and valve, which is convenient because it means you don't have to buy them separately.
Pros
Highly recommended best seller
316 square inches of cooking space
27,000 BTUs of heat thrown out
Can also be used as a griddle
Portable & easy to transport
Cons
Best Propane Grill Under $200 Buying Guide
As promised, here's your buying guide. Here are some of the key things to think about before you buy.
Brand
There's a lot to be said for buying from a good, well established brand. If it's a name you know, you can generally expect the product to be of top quality…
I included several top names in my shortlist of best propane grills under $200. There's Char-Broil, Weber, Cuisinart, and Royal Gourmet.
Cooking Space
You also have to ensure that there's enough room on the grill to be able to cook for everyone who comes to dinner. This is usually simple enough when you're cooking small burgers to go in buns, but it becomes a little trickier if you're rustling up a mixed grill deal.
How Much Heat It Throws Out
No-one I know likes to have to wait for their food when they are hungry. In my book, the sooner your food is ready to eat, the better. And to make that happen you need your propane grill to be throwing out plenty of heat.
The heat thrown out from grills is measured in British Thermal Units, or BTUs. And I would argue that the higher the number of BTUs, the quicker your food will be ready.
Number Of Burners
When you're cooking a number of different items on the grill, you'll find that some will take longer to cook than others. So, to ensure that everything's all ready to eat at the same time takes a little skill if you ask me…
But it also requires independently operable burners, so that you can really turn up the heat on something that's undercooked, while at the same time keeping your cooked food warm over a separate burner.
Portability
It seems to me that most people who like to use a propane grill like it to be portable. And why not? It's more convenient when you want to cook and eat outdoors. And besides all the top rated propane grills all seem to be portable ones.
In order to be portable, the grill has to be compact and lightweight. Or if it's not so compact and lightweight, then it should at least have wheels.
Easy To Clean
One of the main reasons to choose a propane grill over a charcoal one is because they aren't anywhere near as messy or dirty. So if that's what you're looking for you will want your grill to be as easy to clean as possible…
To that end we recommend going for grills that have porcelain-enameled cast iron cooking grates,that you can simply wipe clean when needed.
Or for easier cleaning you still, you can look out for a grill that also features a special tray to catch all the drips of grease from your meats.
Easy to Set Up and Get Going
Some grills have to be assembled once they arrive but thankfully most don't. If you can get a grill that comes with a hose and valve for the propane can that would be ideal. And easy ignition is another thing to look out for too.
Cost
Even if you set a particular budget for your grill you will still find there's plenty of variation in grill costs. This is why I strongly recommend that you check the prices as you go along. That way you can make a good, well informed decision about what your budget ought to be.
Customer Ratings & Reviews
When shopping for grills online, why not make the most of the opportunity to check out customer ratings and reviews and really get the feel of a product before you part with your hard earned money.
Frequently Asked Questions
What is a good propane grill for under $200?
The answer to this question kinda depends on what it is you're looking for in your propane grill. If you're looking for a grill to use in your backyard, then we would recommend our number one pick, the Char-Broil Classic 360…
But if you're looking for something a little more portable, say for taking camping or tailgating, then you'd be better off with one of the other grills that made our shortlist. Like the HappyGrill or the Cuisinart CGG-059 for instance.
Where can I get a cheap but good quality propane grill?
If you're especially budget conscious, then we can recommend the Cuisinart CGG-059. It comes to very much less than the $200 budget I had set and is of excellent quality.