Burned-on grease is my biggest kitchen nightmare, so it's no surprise that cleaning the oven and stovetop is often referred to as "the worst chore of all time." 
While wiping away grease is normally no problem, as it burns and then cools it creates a vacuum that causes it to adhere to any surface. This burned grease debris can build up in your oven, barbecues, and on your stovetops, making it near impossible to get rid of— even if you used a pneumatic drill!
This post may contain affiliate links. Read my disclosure policy here.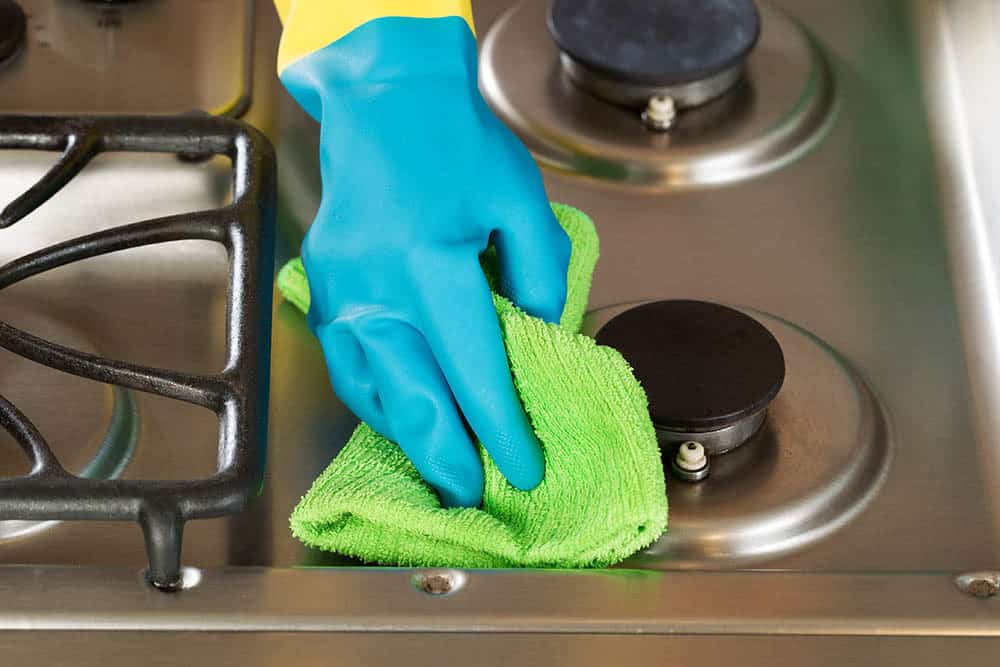 Fortunately, there are a few less extreme measures you can take to eliminate pesky burned-on grease. I've found that the difficulty of the job will all depend on what cleaning agent you're using.
Some are a lot more helpful than others at removing burned-on grease, which can save you time, money, and a whole lot of hard labor. 
Trust me— using the right commercial cleaner will deliver the best results. But with so many different types on the market right now, it can be difficult to know which is going to be best for the job. 
In this article, we'll take a deep dive into the top 5 cleaning agents for burned-on grease and weighed up the key features, ingredients, pros, and cons.
Read on to my handy Buyer's Guide which will help you know what to look out for when you're on the hunt for a super-strong degreaser. 
OUR TOP PICK
EDITORS CHOICE
Easy-Off Professional Oven & Grill Cleaner
BEST VALUE
Cerama Bryte Cooktop Cleaner Value Kit
OUR TOP PICK
Unless you've been living under a rock in recent years, you're probably familiar with our top product.
The Pink Stuff has taken the online cleaning community by storm and has soared in popularity since the guru of clean herself, Mrs. Hinch, stated that it's her go-to product.
The result? Hoards of people desperate to get their hands on the product clearing all shelves of the paste everywhere, myself included.
Fortunately, it's now fully stocked on Amazon and available for delivery in the United States, making it easier than ever to experience the Pink Stuff cleaning power in your own home. 
The self-proclaimed "all-purpose miracle cleaning paste" really does live up to its name.
I've found that it's by far the most effective product for removing burned-on grease, especially on (but not limited to) ceramic stovetops and inside the oven. 
Simply apply it to the surface in question using a soft cloth or sponge and rub gently. After 10 minutes, rinse off all of the paste with clean water, polish, and dry with a clean cloth.
You'll notice that it tackles the marks, dirt, or burnt-on stains with ease. If you need to, leave the paste to settle for longer on harsher stains and marks. 
The Pink Stuff is also completely guilt-free! The Star Brands Limited company never tests on animals, and all of their products are free from animal-derived ingredients.
The label also states that the paste is made from 99% natural and non-toxic cleaning chemicals and ingredients.
It's non-abrasive so it won't damage any of your surfaces and it's perfume-free so you won't have to worry about fumigating your home with stinky chemical cleaners. 
Pros
One of the most popular multi-purpose cleaning products on the market with thousands of positive reviews from returning happy customers.
It's multi-purpose and can be used on ovens, stovetops, tiles, sinks, BBQs, rust, skirting boards, and even shoes.
The paste is made from 99% natural ingredients, is environmentally friendly, non-toxic, and non-hazardous, helping to keep you and your family safe. 
Cons
If the paste isn't rinsed off or wiped away properly, it can leave a thin film on your surfaces and look messy compared to other spray products.
It's not suitable for use on plastic, acrylic, or polished stainless steel.
EDITORS CHOICE
Next up is the Professional Oven and Grill Cleaner from the brand Easy-Off.
This brand has been voted the number one oven and grill cleaner in the United States, so it's no wonder why millions of people put their trust in their products each and every year.
This product comes in a spray can form (24oz) and is specifically designed to eliminate tough burnt-on food and grease from a whole array of surfaces. 
Once sprayed, the heavy-duty formula starts to work within just minutes. Just simply spray it all over your oven walls and wait for the foam to penetrate the dirt.
After 5 minutes have passed, wipe off the grease and voila! You should be left with sparkling clean surfaces with next to no effort.
Although this Easy-Off spray is suitable for ovens, barbecues, pans and stainless steel, the brand recommends against using it on electric stovetops. 
The ultra-fast cleaning power of Easy-Off is all due to its chemical makeup, including a high lye content. However, some of these chemicals are toxic and the fumes can get pretty unbearable.
Always make sure that you're wearing gloves when using this product and only use it in well-ventilated areas far away from any animals or children.  
It's important to note that the formula is also highly caustic, which can irritate your skin. Som makes sure that all skin is fully covered when you use it, and try wearing long sleeves as well as rubber gloves to protect yourself.
Pros
The fast-acting formula begins working on burnt-on grease instantly and takes just 5 minutes to eliminate stubborn dirt.
The spray can formula makes it super easy to apply and prevent any chemical-to-skin contact, which can be irritable. 
It's a versatile product that can be used on barbecues, oven doors, stainless steel, broilers, and broiler pans. 
Easy-Off is a beloved home cleaning brand in the US with many positive reviews and years of experience.
BEST VALUE
Cerama Bryte is a brand that focuses solely on cleaning cooktops, which is the place in the home where you're most likely to experience burnt-on grease and dirt.
It's made in the United States and is suitable for use on all ceramic, radiant and halogen cooktops.
This link will take you straight to their Value Kit, which is extremely popular amongst Amazon buyers.
The Cerama Bryte Best Value Kit comes with everything you need to get started on eliminating pesky burnt-on dirt and grease.
In the kit, you'll find; a 28oz bottle of their famous ceramic cooktop cleaner fluid, a 2oz bottle of their special burnt-on grease remover, 10 cooktop cleaning pads, and even a handy re-usable scraper tool.
Be sure to read the instructions thoroughly before getting started with the scraper tool, though, as pushing down too hard straight away can damage your stovetop.
It is an amazing cleaner and works better than many supermarket alternatives. I just buff my cooktop out with a microfiber cloth and use the paste to make it shine.
The Cerama Bryte cleaner cleans smoothly, and I glad to found it. This stuff is so easy to use – just a tiny squirt, a quick buff, and done.
Pros
This is a full kit, not just one bottle of cleaner. So, you won't need to spend money buying extra tools and cleaning supplies as it's all included in this handy bundle.
The formula is made specifically for removing burnt-on grease, meaning it's perfect for daily, or even weekly use to keep accumulating dirt at bay.
This product is pretty affordable compared to other similar ones on the market.
Cons
Some reviewers reported that the cleaning fluid itself is rather thin, which can cause it to run down vertical surfaces as you are cleaning. 
RUNNER UP
Next up is this all-natural cleanser and degreaser from the brand CitraSolv, and I love it.
It's a versatile solvent that acts as a powerful degreaser that cuts straight through even the toughest of stains while simultaneously filling your home with the sweet and pleasant aroma of Valencia oranges. 
It can be used neat for those pesky burnt-on stains, or it can be diluted with water and used as a daily cleaning agent in your home.
Some of the most popular uses for Citra Solv include removing chewing gum, burnt-on grease, tar, lipstick, sap, adhesives, gasoline, nicotine stains, pet stains, soot, ovens, grill, and even permanent marker.
The solution itself is completely plant-based and doesn't contain any harmful chemicals that can irritate your skin. The formula is all-natural and Citra Solv prides themselves in never testing any of their products on animals, or using animal-derived ingredients. 
Some reviewers even swear by tossing a capful of Citra Solv in with their laundry cycle, as it's tough enough to cut through grease, lift stains, and leave a fresh scent with no irritation to the skin.
However, Citra Solv shouldn't be used on any sort of plastic or plexiglass, as it can discolor it, or even slightly melt it, depending on how neat your solution is. 
Pros
An all-natural product that is sustainable, guilt-free, and doesn't harm the environment- or your skin!
It's extremely versatile and can be used as a general all-purpose household cleaner as well as a spot-on solution for burnt-on dirt. 
It smells divine! Compared to the other products on the list, Citra Solv's refreshing scent will leave your house smelling glorious.
Cons
Due to the chemical makeup of this product, it's not safe for use on plastics or even plexiglass. So, you'll need an additional cleaner for these surfaces.
RUNNER UP
Last but certainly not least is this Cooktop Cleaner and Polish Kit from the brand Weiman.
This stovetop cleaner works remarkably well at removing stubborn burnt-on grease and dirt, leaving your cooker looking like it's just come straight from the store. 
Unlike some of the other cleaners on this list, the Weiman formula can be used on glass, too. This means that you can use the same product all around the house!
The Weiman Cooktop Cleaning Kit comes with everything you need to keep your glass or ceramic cooktop clean, shiny, and protected.
It comes with a 2oz bottle of cleaner and polish solution, a heavy-duty cleaning pad, a scraper tool and Weiman's specially designed cooktop scrubbing pad. 
Using these products won't damage your surfaces either, as the formula is non-abrasive, meaning it won't scratch even the most delicate of stovetops.
The solution itself smells apples, which fills your home in no time at all. It's important to note that although this product is perfect for removing burnt-on grease and dirt, it does not remove scratches that are already present on your cooktop.
In these instances, I recommend contacting your manufacturer for scratch removal instructions. However, you won't have to worry about Weiman products adding any new scratches to your surfaces. 
Pros
Weiman formulas are all non-abrasive, meaning you'll never have to worry about it causing scratching. 
The addition of extra tools such as a scrubbing pad and a scraper makes this kit super affordable compared to others on the market. 
It has brilliant streak-free properties. That's why it acts as a great barrier to eliminate the grease; deep stains originated from oil or baked smudges.
Cons
Some reviewers found that the razor blade on the scraper tool wasn't quite as sharp enough as they'd like. 
Best Cleaning Agent For Burned-on Grease Buying Guide
Dealing with burnt-on grease is never easy, and will usually take a few attempts with a few different products before it seems to budge. This is because each product contains a different chemical makeup which is good for removing a specific kind of grease.
Typically, oven cleaners and products that claim to be tough on burnt-on dirt will contain certain ingredients and chemicals that make them act this way. Each chemical will have a slightly different effect on the grease, as well as your surfaces. 
Acid and Base Cleaners
Many supermarket-branded or cheap oven and kitchen cleaners will contain acidic chemicals or bases that can easily break down burnt-on food and accumulations of dirt. 
Acids are effective degreasers as they are made up of highly reactive chemicals that can often turn solid compounds into water-soluble ones, which makes wiping away mess a breeze. Bases also come in handy when breaking down fats and oils.
They do this through a process known as saponification, which turns large fat molecules into smaller, more liquid salts that can be easily rinsed away with clean water. 
However, this does come at a cost. Due to the heavy-duty nature of acids and bases, they can irritate your skin.
When using any cleaning products that contain acids and bases as an active ingredient, always wear elbow-length rubber gloves and avoid contact with skin, mouth, and eyes.
Acid and base cleaners work best on metal pots and pans, or those surfaces that are more resistant to damage.
Detergent Cleaners
Detergent-based cleaning products work completely differently from acid and base cleaners. They're usually made up of a mixture of surfactants, or amphiphilic molecules. Although this sounds confusing, it simply means that the molecules share similarities with both water and fat.
This helps to bridge the unattractive nature between water and fats, which will allow the cleaning solution to penetrate the grease quickly and more effectively. The grease molecules will bind to the surfactant and it can be easily rinsed away with clean water. 
Detergent cleaners work best on thin layers of dirt and grease, fabrics, countertops, and any sort of surface that can be broken down by or is sensitive to acid and bases. 
Solvent Cleaners
Solvent-based home cleaning products are most commonly used to dissolve specific grease and dirt compounds and buildup. Solvents aren't as popular as acid/base cleaners, as they're not as versatile or universal.
Solvents are unique as they have the ability to chemically reflecting the compound you're trying to get rid of, which allows it to penetrate it so it can be easily wiped away or rinsed off. 
However, it's important to note that solvent-based cleaners and degreasers tend to emit fumes, which can be harmful and sometimes toxic. Only ever use solvent cleaners in well-ventilated areas away from children and animals.
I also recommend wearing a face covering or mask while using a solvent cleaner, as the fumes can irritate your lungs or cause you to cough. 
How do you remove burnt-on grease from pots and pans?
Before turning to any harsh chemicals or even spending a cent on any cleaning products, you can try to eliminate burnt-on grease from pots and pans, as well as surfaces by using things commonly found in the home.
Some of the most effective methods involve sprinkling baking soda onto the affected area and spritz over with some white vinegar. Some people also swear by lemon juice. However, burnt-on grease will often require a heavy-duty degreaser, so take your pick from my list above!
Can burnt food in the oven cause a fire?
While this is pretty rare, in some extreme cases, it is possible for food scraps or other burnt material to catch fire in your oven.
Before this happens, you'll likely notice lots of smoke coming from your oven every time you pre-heat it, and many people notice a change in the taste of their food. 
To reduce the risk of oven fires and accumulated burnt grease debris, use parchment paper to catch falling grease. Alternatively, you can use one of the cleaners from my handy list above to stay on top of your oven maintenance after every use.