For tea lovers, a good kettle is an essential piece of equipment. I know that I've had more than one cup of tea ruined by a low-quality teapot that went cold with half a mug still in there.
Copper teapots may be the solution you're looking for. Copper is a fantastic heat conductor, so your water boils quickly and stays hot for longer. The elegant spouts allow for a good pour, so your tea is perfectly aerated by the time it reaches the cup. It's a kettle you can take pride in.
This post may contain affiliate links. Read my disclosure policy here.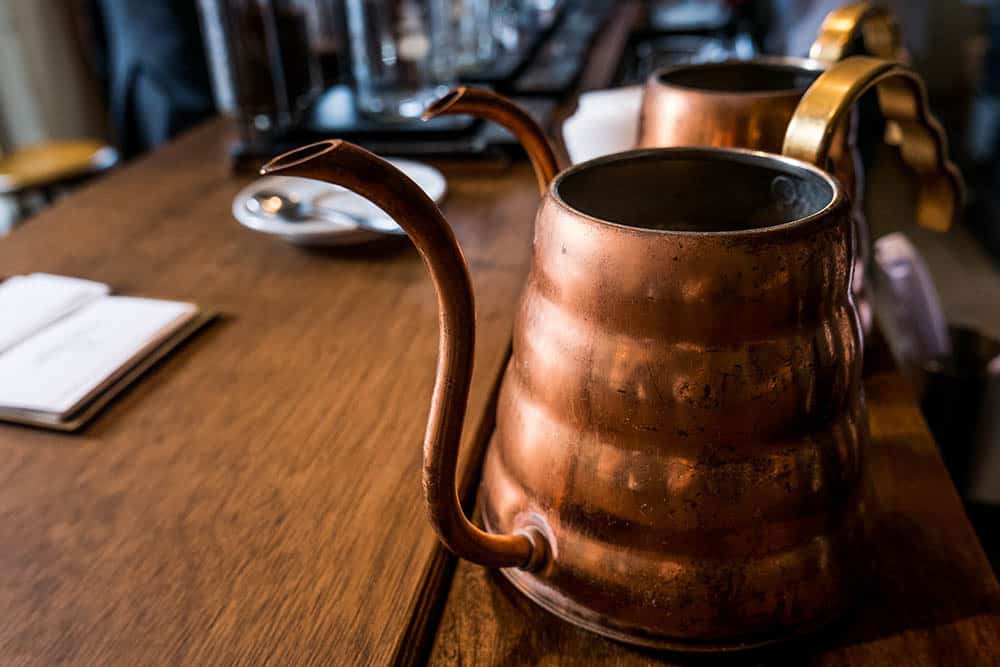 Teapots should be something that's celebrated! Not pushed into the back of a cupboard whenever not in use. That's another thing that's great about copper kettles. Even when they're empty, they serve a purpose by looking stylish on the sideboard of any home.
This guide can help you choose a copper kettle to make the perfect cup of tea. All the picks are hard-working, but attractive enough that even the non-tea drinkers amongst us might think about picking one up.
OUR TOP PICK
DEMMEX Hammered Copper Handmade Tea Pot Kettle
EDITORS CHOICE
Old Dutch DuraCopper Callisto Tea Kettle
BEST VALUE
CopperBull Hammered Copper Tea Pot Kettle
OUR TOP PICK
There's a lot to fall in love with in this attractive Turkish kettle. The rounded body is hammered into a beautiful finish, that both catches and dulls the light to create a stunning appearance.
The gooseneck spout is elegantly engraved with an intriguing design. A wood-effect handle tops the whole thing off, for easy hold and an even better pour.
With careful cleaning, the copper construction will age wonderfully, taking on a patina that only adds to the authentically handmade kettle.
The copper outside is lined with lead-free tin, for safer use and easy cleaning.
Copper can impart a taste to the tea, so this lining ensures you'll have the best flavor. It's suitable for use on both gas and electric stoves, but can't be used on induction.
With a capacity of 1.6 quarts, it's slightly on the smaller side. However, it should still hold a few cups of strong Turkish black tea, and stores away easily.
Although, you may find you never want to put it back in the cupboard.
If you're looking for an unusual, practical, and attractive housewarming gift, then this is perfect. The copper ensures water heats quickly and stays warm, and the design is immediately eye-catching.
Pros
100% Handmade – All the beautiful engraving and careful hammering was done by hand.
Lead-free tin lining – For a safer cup, better taste, and easy cleaning.
Fast heating – The copper construction will bring your water to a boil faster.
Cons
Loose lid – The lid needs to be held down as you pour.
No induction stoves – Can only be used on gas or electric stoves.
EDITORS CHOICE
For the serious tea drinker, this 3.1 quarts kettle can hold a tea parties worth of water. Perfect for entertaining, or if, like me, you just really like tea.
Made into a pleasingly retro design, the Old Dutch Callisto Kettle is the ultimate blend of form and function.
The innovative DuraCopper that the kettle is constructed of is a titanium dioxide/copper material, bonded to food grade stainless steel. This gives you a kettle that's durable, doesn't need polishing, and keeps drinks hot.
The entirety of the kettle seems to have been designed for easy use. The spout is lock open, for convenient pouring.
The lid seals, so it doesn't have to be held down, and the curved handle makes it easy to lift such a big pot. It can even be used on gas, electric, and induction hobs. Making it the perfect choice for many households.
Perhaps the best feature of all, when the water is boiling the teapot whistles.
There are few sounds more evocative than a whistling tea kettle, bearing the exciting news that your chai will soon be ready.
The only downside is that the elegant curved handle can get incredibly hot. Be careful when lifting, and you need to wear an oven mitt to hold it.
Pros
Whistle – When the water's boiled, the kettle whistles to alert you. So you don't have to stand and watch.
3.1 quarts – The large size holds a lot of water.
Lock-open spout – Spout holds open for convenient pouring.
Induction safe – Can be used on gas, electric, and induction stoves.
Cons
Handle – Oven mitts must be used when pouring, because the handle gets incredibly hot.
BEST VALUE
What makes unvarnished copper kettles so appealing is that over time they age to become even more attractive.
Which is saying something, because the CopperBull hammered kettle starts off attractive already.
While small size for a tea kettle, this pot is perfect for a single person or a couple who like to add a touch of luxury to their tea routine. 28 oz is roughly the size of 3 cups of tea.
Once heated, the thick hammered copper keeps the water warmer for longer, so you can enjoy a relaxing cup. Ideal for a rich black tea, or a floral Earl Grey.
The small size makes for easy storage, but it also allows you to display it without taking up too much space.
With a rounded body and small size, this kettle heats up quickly when over a gas or electric stove.
The unusual handle design is held away from the main body of the teapot. This reduces heat transference, keeping the water warm while the handle remains at a safe to hold temperature.
One note is to be careful when placing the kettle on the stove. Angle the handle away from the heat source and keep an eye on it.
The choice for anyone who wants to treat teatime like the occasion it is.
Pros
The water stays warmer for longer.
Attractive design – The kettle looks more like an ornament than a functioning item.
Copper surface – As this kettle ages, it will gain an attractive patina.
Cons
Size – It doesn't hold much, so not ideal for large families.
RUNNER UP
Although technically made of stainless steel, the elegant copper finish of this kettle earns it a place on this list.
This is a copper tea kettle where practicality comes to the fore. With a capacity of up to 3 quarts, this kettle can hold a massive 12 cups of water.
Plus, it's compatible across all types of stove, and the flat bottom allows heat to dissipate evenly for quicker boiling water. There are few people who won't find a use out of the Zanzer whistling kettle.
While the design is fairly basic, the whistling gives it a slight retro spin. When your water has reached boiling, the kettle whistles to alert you.
Very useful for busy households, and a sound reminiscent of many childhoods.
Despite the heavy size, this is still an easy-to-use kettle. The ergonomic handle is easily grasped, and stays cool as the pot heats up.
With a one-hand trigger mechanism, pouring is incredibly convenient. Especially useful as there's so much to pour. It also locks tight, so water stays warm in between cups.
If you're like me, and you enjoy your breakfast tea by the bucket, then this kettle might be the right choice. Ideal for everyday use.
Pros
3 quarts – A big size to hold up to 12 cups.
Flat bottom – For a quick and even heat, and use across all types of stove.
Whistle – The evocative whistling noise means you don't need to watch the water for a boil
Cons
Warm handle – Despite the manufacturers claims, some have found the handle still gets hot.
Basic design – If you want the kettle for design and function, the Zanzer is fairly basic.
RUNNER UP
The integrated thermometer on this barista style kettle is what makes this design stand out. While Barista claims this is great for unlocking the full potential of coffee beans, I know it will also be of importance to tea lovers as well.
Use this thermometer to ensure you never have to scald the delicate leaves of green or white tea again. Perfect!
The construction of this kettle is fantastic. The wide base and copper coating help the kettle to heat the water quicker, so you can have a steady boil in minutes.
With a long and elegant gooseneck spout, each pour is smooth and precise. An air-tight lid keeps the water warmer between pours and prevents spills.
At only 1.26 quarts it is on the smaller size, and they recommend not filling it all the way to the top.
However, if you're particular about your tea (or coffee) then the multiple features of the Barista Warrior kettle make up for the size.
The design is pleasingly modern, with the long spout complemented by the unusual shape of the body.
It wouldn't look at all out of place in a cozy coffee shop, or even a swank bar. You may find this quickly becomes your go-to choice when after the perfect brew.
Pros
Integrated thermometer – Monitor the temperature to keep the water from burning the beans or leaves.
Gooseneck – The spout is long and thin, for a smooth and precise poor.
Able for use on induction, halogen, and electric stoves.
Cons
1.26 quarts – A smaller sized pot.
No gas stoves – Barista Warrior recommends purchasing the stainless steel version for a gas stove.
Best Copper Tea Kettle Buying Guide
Copper kettles come in such a wide range you may find yourself unsure what's right for you. Some are purely decorative, some are mostly functional, where others try to blend the two.
To know what to buy, follow this guide.
Size
Kettles come from the very big to the surprisingly small. To make the right choice, you need to know how many people you want to serve with the kettle.
1 quart is fine for a single person or a couple, 3 quarts is better for large families (or the tea addict). Anything less than 1 quart is probably too small for any use other than decoration.
If you want the kettle to serve a decorative purpose, then consider how much space it will take up on the counters. Similarly, if you want to store the kettle away between uses, then you want to buy one that fits your cupboard.
As you check out the capacity, look for the base size as well. Those with a larger base will conduct the heat more evenly, leading to a quicker boil.
Material
Copper is great because it conducts heat well, and holds that heat. It's also long-lasting, and as it ages it develops a patina, which is surprisingly quite attractive (although they polish well, many people prefer to show the age).
However, copper should not be the sole material used. Copper on the inside can taint the water, causing copper poisoning. It can also import a bad taste, although that's admittedly secondary to the health effect.
Modern copper kettles should be lined. This lining is generally made of stainless steel, lead-free tin, or nickel. This lining prevents the copper from directly touching the water, and removes the risk of poisoning.
Other copper kettles may be made of a copper blend. Old Dutch use DuraCopper across most of their range, for example.
Handle
Most of us have probably, at one point or another, gone to pick something up off the stove without thinking about it, only for a rude and painful awakening. The handles of copper kettles are particularly prone to heating, because copper is such a good conductor.
Look for kettles with a plastic or wood covered handle, or one that angles away from the body of the kettle.
Especially for larger kettles, look for a handle that's ergonomically designed. It needs to be easy to hold, both to pick up and to pour. A wide curve is common, and worth looking out for.
No matter how well-designed a handle is, heat transference is still an issue. Always be careful when picking up a kettle, and use an oven mitt where necessary.
Price
A good copper kettle can last for years, so don't shy away from spending a little extra. However, I understand that budget is important. The less money you spend on a kettle, the more money you have to spend on tea!
Setting a budget before you start shopping is a good idea. Although they may look pricey, a copper kettle is often an affordable item.
Additional Features
Depending on how much you want to spend, there are many extra features that can be added to a copper kettle. A whistle is a common one, and a nice extra for anyone who hates watching water boil. Or for those of us who just like the sound.
Integrated thermometers are also popular. These allow for close monitoring of water temperature, perfect for coffee or delicate green tea leaves.
Other features relate more closely to the design. Air-tight lids and locking spouts can both be found, for easier pouring and better heat retention.
Design
The design of a copper tea kettle may be purely decorative, or it can improve the function. Copper kettles range from the intricately hammered to the plain but useful. Some are retro, some modern, and some could even be futuristic.
While design may not take precedence over function, there are so many copper kettles out there that with even a quick search you can find something to tick all boxes.
Frequently Asked Questions
Is a copper kettle safe?
Modern copper tea kettles are safe to use. In the past, a copper kettle would be made of 100% copper. This was dangerous, as it could lead to copper poisoning. Now, copper kettles are lined. This lining may be stainless steel, lead-free tin, or nickel.
This keeps the water safe, while you still feel the heating benefits of copper.
How to clean a copper tea kettle?
As the kettle is used the copper will darken and grow a patina. While many enjoy this effect, others prefer the shine of polished copper. The patina isn't damaging, it's simply a personal choice to clean or not.
Cleaning a copper kettle is relatively easy, and can be accomplished with basic household objects. There are also commercial cleaning formulas available.
For a simple cleaning method for a copper kettle, use a lemon. Slice the lemon in half, and dip the cut side in salt. Rub the lemon all over the kettle. Rinse the kettle, and wipe it dry with a clean cloth.
How to take care of a copper tea kettle?
There are a few steps to taking good care of a copper kettle.
When using, don't overfill. Otherwise, as the water boils it can spill out, causing blisters. Never set the flame too high, or it can damage the finish.
Clean the inside of the kettle after every use. Don't use a coarse sponge, as this can damage and scratch the copper.
Copper is durable, but it does dent. Be careful when moving it around.
By following these simple guidelines, you can have a kettle that lasts for almost 20 years.