Summer is rapidly approaching and nothing says summertime more than the smell of meat cooking on the grill. The pandemic has been hard on everyone, and you may be looking for a budget grill to kit you out for the warmer months.
Investing in a grill is a great use of your money but they can reach prices of over $1,000. This is not feasible for many of us, as it requires a lot of disposable income. There is no need to compromise on features or build quality in a grill to remain within your budget.
This post may contain affiliate links. Read my disclosure policy here.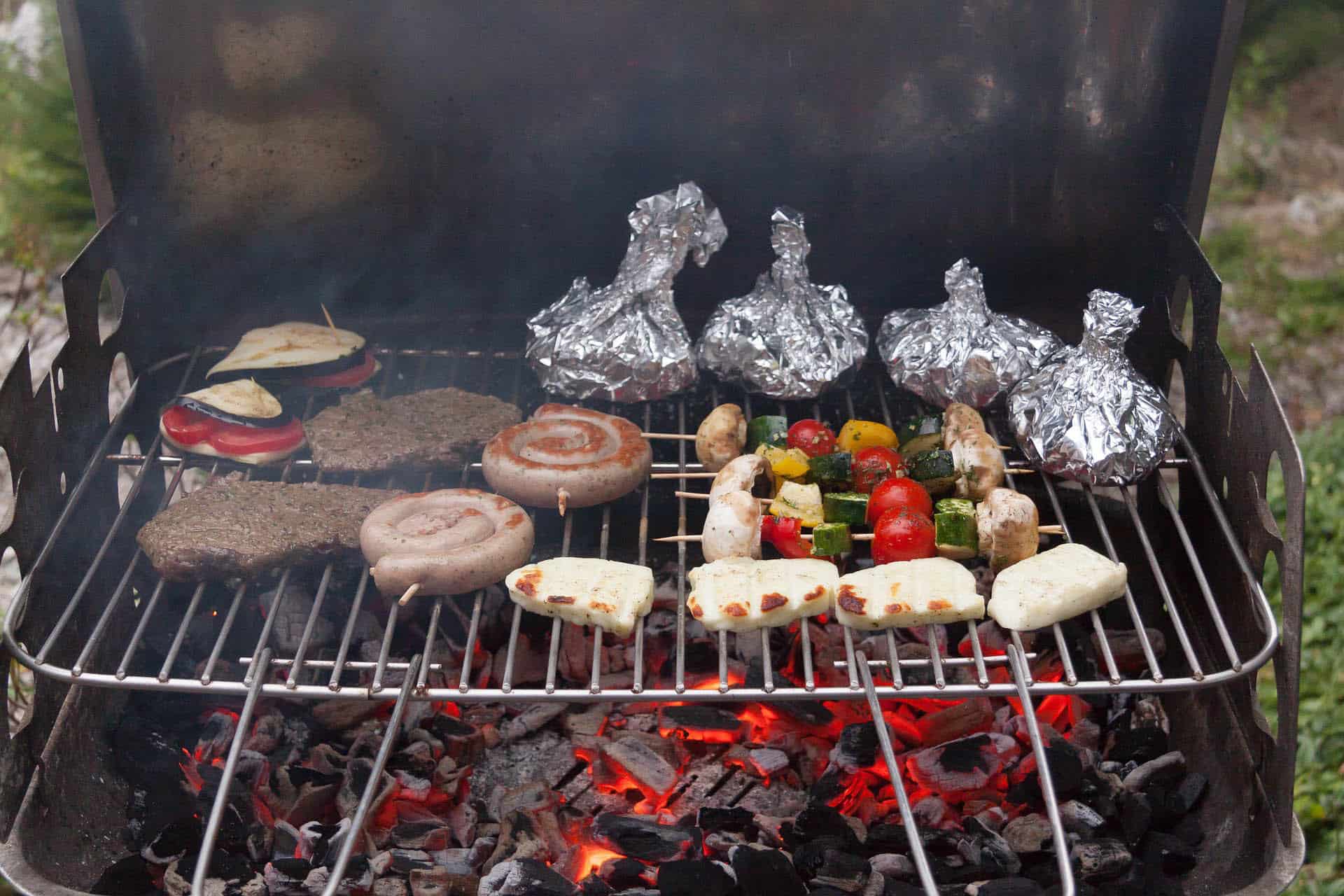 I have done all the hard work for you, scouring the market for the top 5 best grills under $200. I have also laid out a handy buyer's guide to ensure you know what criteria to look for in your grill.
OUR TOP PICK
Weber Original Premium Charcoal Grill
EDITORS CHOICE
American Gourmet Char-Broil Classic 360 Grill
BEST VALUE
OUR TOP PICK
This grill from Weber is our top pick for under $200. At $174.99 on Amazon.com this kettle grill has a grill area of 363 square inches.
The grill measures 39.5 by 22.5 by 27 inches when erect, and weighs a very reasonable 32.3 pounds. It also comes complete with durable wheels for complete portability.
The grill uses charcoal as the fuel source and the cooking grate is hinged.
This allows for the easy addition of charcoal during the cooking process. The grill comes with a lid to contain the heat inside the cooking area.
The frame of the grill is made from rust-resistant aluminum and the cooking grates are made of a plated steel. The lid and bowl of the grill are composed of an enameled porcelain.
The lid has a built in thermometer to allow for complete monitoring of the internal temperature. There is a hook on the lid to prevent it from falling closed while cooking, and the handle has a heat shield to protect your skin.
There is a one-touch cleaning system and a high-capacity ash catcher for easy clean-up after usage. The grill also comes with a couple of hooks on the side. This is perfect for storing utensils during grilling.
The warranty period varies according to the parts in question. The handles have a warranty of 10 years, as does the one-touch cleaning system, the bowl, and the lid.
All thermoplastic and thermoset parts are covered for 10 years, although this does not apply to fading. The cooking grates and all remaining parts are covered for 2 years.
EDITORS CHOICE
This grill comes in at a slightly cheaper $169.99 with a grilling area of 360 square inches. It measures 24.1 by 51.2 by 43.5 inches when constructed.
It is a slightly heavier 48.5 pounds but still has 2 wheels for easy movement.
The American Gourmet Weber-style grill is powered using liquid propane cylinders. It has 3 in-line burners for a fantastic grilling experience. The ignition is a Piezo push system for ease of use in all weather conditions.
The grill frame is constructed from stainless steel. The lid, grates, and firebox are all made of steel too, coated in porcelain.
There are additional shelves made of steel on the side, measuring 12 by 13 inches.
This is ideal for food preparation and gives you some extra storage space during cooking. The grill also comes with a 170 square inch swing-away warming rack to ensure your food doesn't go cold.
The warranty period on this grill is 5 years on the burner elements. For the firebox, the warranty period is 2 years and there is a 1-year warranty on all other parts.
BEST VALUE
This Weber-style grill can be found on Amazon.com for $189. The grilling area is 189 square inches, which is markedly smaller than our other options.
It measures 14.5 by 27 by 16.5 inches when built. It is highly portable, weighing in at only 26.2 pounds, making it ideal for tailgates.
The grill uses 14.1 or 16.4-ounce liquid propane cylinders as the fuel source.
The grill has infinite control burner valve settings and a hood to keep the heat inside the grill. The ignition system is a push button making it easy to operate.
The grill frame is constructed from glass-reinforced nylon. The lid and body are made from cast aluminum. The cooking grates are cast iron with a porcelain enamel coating.
The grill has a removable catch pan for easy cleanup. The cooking grates are split to allow for simultaneous grilling and griddling.
For warranty information, you will need to reach out to the manufacturer on Amazon.com.
RUNNER UP
This grill can be found on Amazon for $153.
The grilling area is the smallest at 153 square inches and the grill measures 14 by 25 by 21 inches when built. The grill weighs 37 pounds and has handles for ease of movement.
The Kamado-style grill is fuelled by charcoal and comes with a hood to insulate the heat.
The body of the grill is made from triple-walled 22-gauge steel with insulation built-in. The grates are made from cast iron.
The ash pan on the grill is designed for easy emptying making clean up a breeze.
The grill comes with air dampers on the top and bottom to give you complete control over the grill temperature.
There is a heat gauge to display accurate temperature readings. There is also a hinged locking lid to ensure your safety when the grill is being used.
For detailed warranty instructions, please contact the manufacturer.
RUNNER UP
This charcoal park-style backyard grill can be found for $159.99 on Amazon.com. It has a grilling area of 224 square inches and weighs 48.9 pounds.
The grill uses charcoal as the fuel source. There are 4 separate cooking levels on the grate of the grill, but there is no hood to trap the heat inside.
The grill is constructed from a commercial park quality heavy-duty plated steel with a thickness of 1/8 inch.
The grill is simplistic but has a theft-proof swivel attachment and can be rotated 360 degrees for easy access during cooking.
For specific information concerning the warranty period, please contact the manufacturer.
Best grills under $200 Buying Guide
Fuel source
The main fuel source for grills are natural gas and propane, although charcoal and pellets are also relatively standard.
Propane gas grills are quick and easy to light, warm-up, and clean down. They are incredibly convenient to use as they perform well in all weather conditions. Natural gas is non-toxic and flavorless as a fuel source. Again, it is remarkably easy to set up and cook on.
Charcoal grills are harder to use in almost every way. Many people still opt to use them for the intense smoky flavor the charcoal imparts onto the food you are grilling.
Grilling with charcoal as a power source is slower, as you must allow the charcoal around 15-20 minutes to heat to a suitable cooking temperature.
Hardwood pellets are used to give a less intense, but still noticeable, smoky flavor. They burn very evenly, meaning that an incredibly consistent temperature is maintained. This makes them ideal for slow cooking, but not very good for searing foods.
Grill style
The 3 main grill styles are kettle, barrel, and Kamado. Kettle grills are the most space-saving design and are ideal for longer cooking times. They also perform very well when searing burgers and steaks.
Barrel grills resemble a barrel laying on its side. They can cook a lot of food at the same time, but require a large amount of fuel and tend to die out quite rapidly. The best things to cook on this style of grill are steaks, hot dogs, and hamburgers.
Kamado grills are visually similar to kettle grills, but they are made from heavy ceramics instead of metal. They tend to be pricier, but are much more effective at trapping the heat and allow for a lot of temperature control.
Size
You can purchase grills in a variety of sizes and shapes. Consider your needs when looking for an appropriately sized grill. If you do not have a large backyard, or grill infrequently, a smaller grill will be more suited. If you entertain outdoors often, or for larger groups of people, a bigger grill is probably a better option.
Price
Grills are a hefty piece of equipment and as such, you should expect to pay a decent amount of money for one. Luxury models are likely to set you back at least $1,000, but you can still purchase decent budget options.
You should treat your grill as an investment and be prepared to part with a decent amount of money for it. That being said, if you set a budget I advise sticking to it. All of the options listed here are at the cheaper end to show that you can get a good result for a small cost.
Number of burners
The standard number of burners for a grill is 2, however, you can find grills with many more than this if you need. I do not advise purchasing a single burner grill as this will take a long time to heat up and grill.
Be aware that the higher the number of burners, the higher the fuel demands of your grill will be. Generally speaking, grills with 4 or 5 burners give off a much lesser degree of heat on each individual burner.
This is because the same fuel quantity is spread out between all of the burners. It is only really worth purchasing a grill with more than 2 burners if you have a large family or tend to like bulk cooking.
Grill hood
If you are planning on cooking steaks that are an inch thick or more, you're going to need a grill hood.
The hood traps the heat inside the grill in a similar fashion to an oven. This means that the heat can circulate all around the food, creating an even cook.
Gas tank access
Lots of propane gas grills get their power from a tank connected to the grill. This can be the same tank used to power your kitchen oven, or can even be hooked up to the natural gas line to your house.
Portability
If you frequently attend tailgates or go camping, a portable grill is vital. The budget options are often more lightweight and as such, are much easier to carry about.
When trying to choose a portable grill, look to see whether it can fold up into a more compact unit.
Ignition
There's nothing more annoying than trying to ignite your grill repeatedly but nothing happening. Look for grill models with a push button ignition as this is the most reliable and effective. Battery-powered ignitions are also good but will need regular maintenance to keep them in working order.
Many grills will come with a backup ignition system. This is really useful if your original ignition fails.
Materials and build quality
The best material for your grill grid is stainless steel. This is very resistant to rusting and can last for many years. Standard steel grates are cheaper, but chip easily meaning that your food will stick.
I do not recommend purchasing a grid that is coated in porcelain, as this coating can wear off and disintegrate through use. This can allow the metal underneath to rust.
Cast iron grates will cook your food the fastest as they hold heat very well. They require the most maintenance but are the most durable if cared for correctly.
Grills tend to live outdoors year-round. This means that they need to be very durable and able to withstand exposure to the elements. It is often a good idea to purchase some kind of cover or dedicate an indoor storage space for your grill. This will help to protect it and extend its lifespan.
Pay particular attention to the wheels, grates, cart, handles, and lid. I recommend searching for a grill made primarily from stainless steel where the joins have been welded together. This will be the most durable option.
Additional features
If your grill has additional features, be aware that this will likely increase the purchase cost. You are unlikely to find a grill for under $200 with a range of extra features.
While these features can make your life easier, they are not necessary to grill with. It is far more important to focus on a good build quality than on additional features.
Warranty
A good way to measure the quality of any product you are purchasing is to look at the warranty period. This is the length of time during which the manufacturer will repair or replace your product free of charge. The longer the warranty period, the more faith the manufacturer has in their product.
This is an important consideration when purchasing a grill as they are often an investment. You do not want to spend $200 on a grill that you have to repair at a personal cost next year.
Frequently Asked Questions
Is it healthy to grill food?
When you grill meat, the fat is allowed to drip through the grates, meaning you do not eat it. This means that grilled meats are slightly lower in fat than their pan-seared counterparts.
That being said, grilling creates HCAs (heterocyclic amines) and PAHs (polycyclic aromatic hydrocarbons. These are both classified as probable human carcinogens and can damage the DNA in human cells. This is unlikely to cause you much damage in moderation, but I do not advise grilling your food every day.
How long do gas grills usually last?
This varies according to your budget. More expensive grills are expected to last longer and are viewed as somewhat of an investment.
A $200 grill should last you at least 3-5 years, maybe up to 7 if you look after it well. Expensive grills can last upwards of 15 years.
How do I clean my gas grill?
Each manufacturer creates its gas grills differently. This means that the care and maintenance instructions will differ between models. Some will have parts that are easy to detach and can be washed in warm soapy water. Other models may need cleaning while still intact.
The material that the grill is made from dictates the suitable chemicals to use for cleaning. You should read the information supplied by the manufacturer with your grill. This will give you specific care and maintenance instructions.
How often should I clean my grill?
Again, the specific instructions for your grill will be found inside the owner's manual. Generally speaking, you will need to clean the grill grates and drip pan after every use. Food and grease remnants can begin to collect here and this can cause mold to grow.
Leaving the grill parts dirty can also cause premature wear. If you do not empty the drip pan between uses then this can cause overflow next time you use the grill. This is a nasty mess to clean up and is best avoided.