A meat cleaver can complete your cooking utensils. It's a mainstay of many meat lover's homes, every professional kitchen, and every butcher's shop in the country. In the preparation of meat, not any old knife will always suffice.
If you have ever tried to prepare a meal with a flimsy knife, you know how hard it can be. The main ingredients for successful cutting in your kitchen are a good set of knives.
These usually include a fillet knife, a paring knife, a chef's knife (if you're a top cook), and, of course, the boss of the knife block, a meat cleaver.
This post may contain affiliate links. Read my disclosure policy here.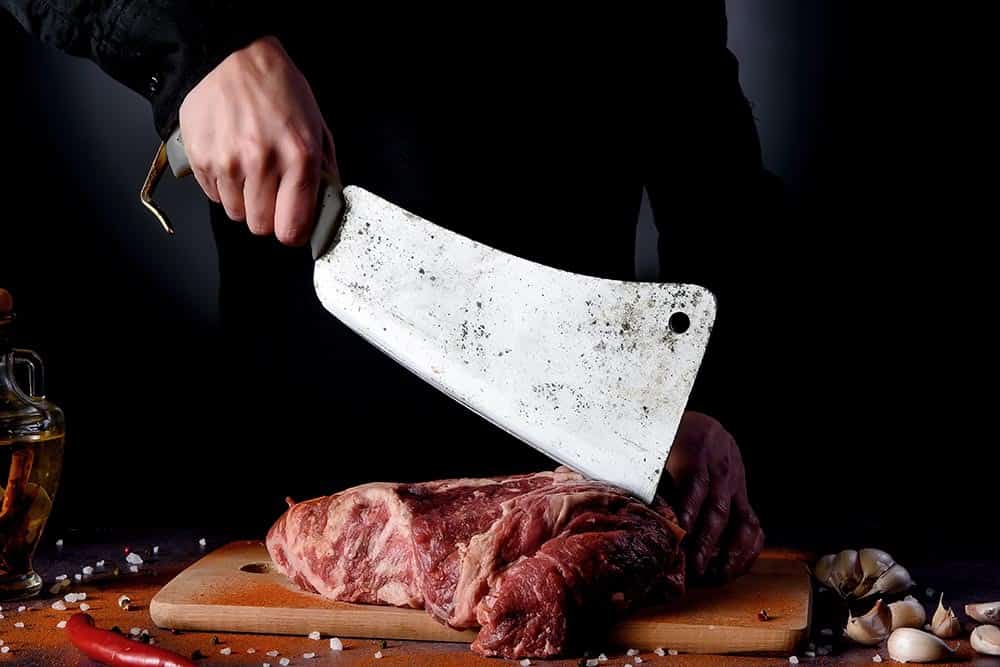 The meat cleaver is a chef's go-to choice when cutting through large chunks of meat. No knife can handle what this beast can. More delicate knives and tools can put you at risk of injury or damage to the knives. The cleaver does the brunt of the cutting work before the delicate tasks can begin.
To help you reach the next level in the kitchen, I have searched and weaved my way through hundreds of meat cleavers currently on the market and come up with the top 5.
I have also included some useful tips on what to look out for in a meat leaver so you can be assured that you're picking the best possible one for you.
Let's not waste any time and take a look at these no-nonsense kitchen tools!
OUR TOP PICK
EDITORS CHOICE
BEST VALUE
ZWILLING Pro 6-inch Meat Cleaver
OUR TOP PICK
J.A. Henckels is a well-known brand name in the world of kitchen knives. This meat cleaver is perfect for carving meats easily and forcefully.
Made from excellent quality German steel, this cleaver will refuse to rust and is lightweight enough to easily hold for long periods.
This Henckels meat cleaver has a supremely fine-edge blade that is sharpened for top functionality and long-lasting durability.
Thanks to its forged construction, this knife's build has the ideal balance between its blade and the triple-rivet handle so you can seamlessly cut meat to your heart's content.
If you're new to the use of meat cleavers, the Henckels meat cleaver is a great place to start.
Its ergonomic triple-rivet handle is well-balanced for comfortable use and once you're done with it, you can pop it in the dishwasher for safe cleaning.
Pros
Very sharp – Its fine edge blade is sharpened to seamlessly cut through the chunkiest pieces of meat
Very comfortable handle – Ergonomic, well-balanced triple-rivet handle sits perfectly in your hand for long-lasting use
Highly durable – Made from high-quality German stainless steel for many years of use
Cons
Not the most effective at cutting through bone – Although very sharp, it may not be the strongest at cutting through tough bone
EDITORS CHOICE
If you're looking for a perfectly balanced cleaver that maintains its sharp edge, then you will love the Wusthof Gourmet 7" Cleaver.
This would be a wonderful addition to your knife collection thanks to its thick and sturdy blade. You will have no problem cutting thick pieces of meat into small cubes with this tool.
Many of us, including me, spend a lot of time in the kitchen so we want our knives to be heavy-duty and long-lasting. Fortunately, the Wusthof Gourmet 7" Cleaver offers just that.
Along with its durable design, its handle is synthetic and extremely comfortable to hold. The blade is constructed from high-carbon stainless steel for long-lasting use. This could be the one that is passed through generations.
One of the highlights of this knife that I love is that you can easily cut through bone as well. This can be impossible with many cleavers but not this one.
The strong blade is laser-tested for sharpness to ensure it will stand up to the heaviest of tasks. Along with its stylish black handle with 3 rivets, this durable and ultra-strong knife would look great in any kitchen.
Pros
Thick and heavy blade – Made from high-carbon stainless steel, the blade is laser-tested to ensure its ultimate sharpness
Very comfortable grip – As well as being stylish, the handle has 3 rivets for extra strength, durability, and comfort
Holds its edge – The excellent quality of this knife should see its sharpness last for a long time
Cons
Quite heavy – May be too heavy for some users to use
BEST VALUE
Most of us regularly do light chores in the kitchen and not everything requires the strongest, most substantial knife on offer.
The german made Zwilling Pro 6-inch Meat Cleaver is perfect for such tasks as dismembering chunks of meat at the joint to quartering chickens for your evening meal.
There is one aspect where this knife excels in and that is rock chopping.
Its somewhat thin, slightly curved blade is surprisingly sharp and can make easy work of many foods on your cutting board. There is no doubt that you'll be using this knife very often.
The blade is 7 inches and forged from German high carbon X50 Cr MoV5 stainless steel metal which is corrosion, rust, and stain-resistant.
Drag is reduced thanks to a hand-polished, satin finish. Therefore, you can get a smooth and efficient cutting action with very little resistance every time.
If you're looking for power and precision, this well-balanced Zwilling meat cleaver is certainly one to consider.
Pros
15-year warranty – Made in China, this cleaver comes with a lengthy warranty to cover any manufacturing defects or problems
Extremely strong and stable handle – The ergonomic handle is very comfortable and reinforced with epoxy resin for long-lasting, reliable use
Has a high hardness rating – With a rating of 56 HRC (Rockwell Scale of Hardness), this knife is sharpened with a traditional three-stage process for a keen cutting edge and long-term sharpness
Cons
Poor packaging – Some customers have complained of poor packaging on arrival which could potentially damage the product
RUNNER UP
I believe that one of the most important aspects of a knife or cleaver is its comfort.
Without a firm grip that is easy on the hands, cutting can put a strain on your fingers and hands. There is no such problem with the Zelie Infinity Cleaver Knife.
It sports a highly comfortable, ergonomic handle that is made from G-10 glass/fabric and reinforced epoxy resin. Not only is it comfortable but it is terrifically strong and stable.
I really like the stylish gift box the Zelite Infinity cleaver knife is packaged in. This makes it a perfect gift for any passionate chefs you may know. Weighing a fraction over 14 ounces, you shouldn't have any problem cutting for a period of time.
For a heavy-duty performance, the Zelite Infinity Cleaver Knife is one of the best.
It has a unique combination of well-distributed balance, a slick design, and a lightweight nature for deft handling and complete control. Whether you're a newbie with a cleaver or an experienced cook, this knife would be a clever choice.
Pros
Highly comfortable – Its ergonomic handle puts less strain on your hands and is very strong and stable
Comes in a stylish gift box – This is perfect as a gift and the box is ideal for storing the cleaver when not in use
Multipurpose – Suitable for cutting an array of different foods such as meat and vegetables and it can easily dice, chop, slice light bones, coconuts, whole chickens, and much more
Cons
Handle becomes slippery – The handle can be somewhat slippery if it becomes wet which can be difficult to grip
RUNNER UP
Our final choice is the highly reliable Global Meat Cleaver from Japan. This 6.5-inch meat cleaver is made for cutting light to medium-weight foods with ease.
It is designed from Global's unique mixture of high-chromium stainless steel hardened to 56-58 HRC.
This means that the steel is hard enough to offer a significantly sharp cutting edge but also soft enough to be resharpened at home with a whetstone.
I love the stain resistance this cleaver has to offer. So many build-up stains and marks over time that can damage the appearance of the knife.
Furthermore, unlike many beveled cutting edges found on Western knives, Global's edge is hand ground to a point of 15 degrees on each side.
This extends up the knife blade for a quarter-inch providing a particularly sharp cutting edge with the cleanest chopping action.
Its hollow, sand-filled handle is perfectly weighted for good balance, agility, and strain-free use. The distinct Global dimples in the handle provide an extremely safe and slip-free grip.
There is a slight belly in the cutting edge for rocking and with its lightweight feel, this Global meat cleaver is beautifully responsive in your hands.
From oversized veggies and light to medium-weight bones, this cleaver could become your most trusted companion in the kitchen.
Pros
Stain-resistant – Its stainless steel construction will stay clear and stain free with regular maintenance
Sharp cutting-edge – Its edge is hand ground to a steep point of 15 degrees for a clean and accurate chopping action
Well-balanced handle – Limits any hand fatigue when in use and the handle includes dimples for a slip-free grip
Cons
Poor packaging – Some customers have reported that the packaging was too big for the cleaver causing it to move around inside its box causing some damage
Not strong enough for cutting through bone – Unable to cut through harder pieces of meat or bone
Best Meat Cleaver Buying Guide
Before you go ahead and purchase a new meat cleaver, there are some features and aspects that you should look out for.
Find out what you should take into consideration below so you can be safe in the knowledge that you will be choosing the best meat cleaver for your needs.
Blade length
Every cleaver's blade must be long enough to cut through a range of items with as few slices as possible. A good quality cleaver should be able to chop through something in just one cut. The fewer cuts there are, the cleaner and more precise the cut will be.
Most cleavers on the market tend to be around 7 to 8 inches. This is because shorter blades have a tendency to get stuck in bigger food items which can ruin a piece of meat or a vegetable.
Blade thickness
This is an essential aspect when it comes to meat cleavers. However, the ideal blade thickness entirely depends on how you intend to use your cleaver.
Western cleavers differ from Eastern cleavers. A Western cleaver is usually thicker from its cutting edge to its spine which increases its durability and tends to provide a strong, powerful chop.
Eastern cleavers, such as Japanese or Chinese models, tend to be thinner with a much tighter angle on their cutting edge. This results in greater control as well as cleaner cuts without fraying or tearing.
If you regularly want more accurate cuts, then a thinner blade is the better option. If you desire more force, a thicker blade is the best choice. If you require a blend of the two, you should invest in a blade with a cutting edge between both and one that is somewhere around 16 degrees.
Blade height
You must have enough space for your knuckles as you use a cleaver. This is why its height is important.
Most commonly, a chop is met with a heavy downward motion that cuts straight through the food item. If the cleaver's blade is not high enough, your knuckles could make contact with the counter you're working on with every strike. Therefore, you should look for blades with a minimum height of approximately 3 to 4 inches.
Balance
A well-balanced meat cleaver is always recommended. Most cleavers tend to be blade-heavy because most of the weight derives from the blade, allowing the cleaver to move and fall forward.
If there is too much weight in the blade, it can impede your swing control. This can then lead to you missing cuts or making messy slices in your food. If you're not careful, you could even lose a few digits!
This can be remedied with full tangs and well-sized bolsters to even out the balance of the blade resulting in better control. Just these simple additions can make the heaviest of blades feel lighter.
With more weight closer to the handle, your control will improve. Better control leads to better and much safer chopping.
The cleaver's overall size
It can be difficult to find the right size cleaver. One that is too big can cause fatigue in your hands and arms causing inaccuracy in your cuts. Too small, and a cleaver may not be powerful enough for your needs.
It is recommended that you opt for a cleaver that is around 7 to 8 inches in length and 3 to 5 inches in height. Thankfully, most cleavers are made to these measurements as manufacturers understand what is the best for their customers.
Sharpness
Most modern cleavers come with a sharp blade but this can become blunt over time. Of course, the amount of time it takes for the blade to dull depends on the durability of the edges.
Try and look for a blade that has at least a 56 to 58 HRC rating as these tend to keep their sharpness for longer but only with proper maintenance.
Edge
Eastern blades are trimmed down to around a 15-degree angle or even finer. Western blades are closer to 18 or 20 degrees. If you chop more than slice, a Western-styled cleaver may be a better option but if you require a more precise cut, opt for an Eastern-styled knife.
Frequently Asked Questions
Why should I use a cleaver rather than a knife?
A meat cleaver is one of the most versatile knives in any kitchen. Many can hack through bone or gently chop small pieces of meat. They often provide quicker and cleaner cuts of meat, especially in those more delicate.
Furthermore, a cleaver's sharp blade is ideal for slicing and dicing other foods such as vegetables and fruits. Talk about multi-purpose! You can simply turn the blade of a cleaver on its side and it becomes a very useful crushing tool on foods such as ginger or garlic.
Can all meat cleavers cut through bone?
Most meat cleavers, including those in our list above, can cut through lighter bones such as fish, chicken, or turkey. However, it can become a challenge when cutting through thicker bones such as beef. This usually requires a heavier, stronger cleaver.
If you want a cleaver to chop through cow bones or those similar, you should invest in a cleaver that weighs closer to 2 pounds.
How can I sharpen a meat cleaver?
One day, the time will come when your cleaver needs to be sharpened. I like to sharpen my cleaver with a 300-grit whetstone. I begin by sharpening the knife from the heel to its tip while at a slight angle. I always follow the same profile as the original knife edge.
I then repeat the same motions on the opposite side of the blade. Next, I wipe down the cleaver with a soft cloth and remove any ground off metal on the whetstone by rinsing it down.