Cooking for a family can be overwhelming. It involves lots of preparation and can be frustrating if you don't know how to make a 7-day family meal plan. It's also important that you prepare healthy meals for your family. Opting for processed foods may be an easy way to feed your family, but it's a bad idea.
You should eliminate all processed foods and prepared foods, but don't depend on them to develop your family meal plan. Instead, find healthy recipes to prepare. You can ask a friend or even search online from the many recipe blogs. With the advancement in technology, it's easier to find anything online, including the healthy recipes you might be looking for.
That said, how do you come up with a seven-day meal plan for your family?
This post may contain affiliate links. Read my disclosure policy here.
How Do I Make My 7 Day Family Meal Plan?
Step 1: Create Your 7-Day Family Menu
The first step is to have an approach to meal planning:
Are you planning for a week or a month?
Do you prefer to make meals ahead of time, just before meals, or integrate both?
Do you have a specific day in mind to prepare meals for the week or month to keep in the freezer?
Do you need to consider specific nutrition requirements for your family?
Then, on a sheet of paper or whatever that's convenient to you, create your meu:
Carefully read about how to make up a healthy meal and be sure to get the right amount for each menu.
Skim through online sites or cookbooks and identify recipes that can be helpful. Analyze the level of cooking skills needed to prepare the recipe. Ask yourself whether you're qualified for the skills or up for the challenge. Also, it's imperative to ensure that you have all the necessary equipment to enhance your cooking prowess.
Talk to your family about their schedules and meal preferences. Leverage those factors while you set up your menu.
Consider the weather as you prepare your menu. For example, hearty soups and stews are perfect for a cold winter's dinner. A salad with lean protein will do for a hot summer day. Also, make sure that you're using freezer-friendly ingredients for efficiency.
Identify the ingredients at hand and frequently alternate foodstuffs instead of keeping them longer. This way, you'll avoid unnecessary expenses, saving you money.
Compare sales at local stores for a discounted price to give your family a special treat. It's also worth noting that foods in season tend to be cheap. So make use of the produce in season to prepare healthy meals.
Aim to have varieties in your menu for a nutritionally well-balanced diet. It's okay to have the same meal many times a week as long as you interchange them with other options. Don't forget to include the snacks.
Find ways to manage your leftovers should you plan to serve them during the week. Think about food safety as refrigerated leftovers should be consumed within three to four days.
Study the menu with the entire household and make the necessary adjustments.
Take notes on your menu's progress throughout the week to help improve your recipes.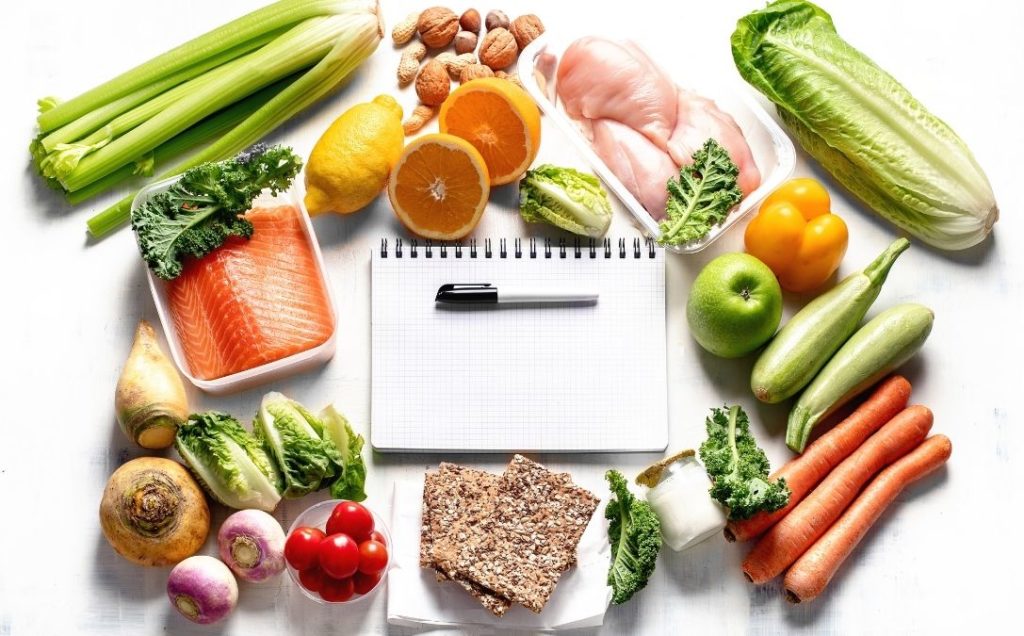 Step 2: Stock Your Pantry and Freezer with the Five Food Groups
Before you can get started with meal planning, it's best to stock up on the basics. This includes healthy foods that are your family favorites. Below is a list of essential items you can stock up in your pantry and freezer, plus other items based on your food preferences and specific health requirements.
Your Ultimate Pantry Food List
Vegetables – Stock a variety of canned tomatoes (whole, diced, crushed, stewed). Utilize them for soups, sauces, stews, casseroles, and more. You can also keep dried mushrooms in your pantry and use them to enhance your meals' overall flavor.
Fruits – Dried fruits such as raisins, apricots, and cranberries are rich in dietary fiber. You can use fruits across the meals to add flavor.
Milk and Dairy Products – Dried milk is another pantry item you can stock up for coffee or tea. Boxed milk comes in single-servings, making it perfect for lunches. You can also opt for evaporated milk, a perfect replacement for liquid milk in various recipes.
Protein Foods – Dried lentils, cannellini, garbanzo, and kidney beans are some of the protein foods you can keep in the pantry. Cook beans and toss them in salads, stews, soups, among other dishes. Canned tuna and sardines are a pantry-must since you can use them to add proteins, flavor, and healthy fats to meals.
Grains – Have a bunch of buckwheat, oatmeal, and whole-grain cereals in your pantry. Add some nuts and fresh berries to give your cooked cereals a boost. Barley, quinoa, farro, and other grains are stapled supplements for healthy meals. You can also keep different rice types (basmati, brown rice, short and long grain). If you're looking to lose weight, including pasta in your diet will help enhance the feeling of fullness.
Condiments – Ketchup, relish, and mustard are a few condiments you can keep in the pantry unopened. Once opened, keep them refrigerated.
Oil and vinegar – Extra virgin oil is flexible and healthy to the heart. Other oils, such as walnut, sesame, and peanut, are essentially used to add flavor to meals. Stock up varieties of vinegar to impart unique flavors to your recipes.
Stock – Vegetable, beef, and chicken stock are the essentials of many recipes. Only keep those with low-sodium or contain no added preservatives.
Herbs and spices – Fresh herbs and spices are highly perishable, making them prone to room temperature. Opt for those in ground form as they can stay longer in the pantry.
Flax and other seeds – Flax seeds are chia seeds known for their weight loss prowess. Even so, they are rich in protein, fiber, and omega-3 fatty acids. Toss them in cooked cereals, salads, sauces, and baked products. Flax seeds are available both in whole and ground form. For easy absorption, grind it first before adding it to your food.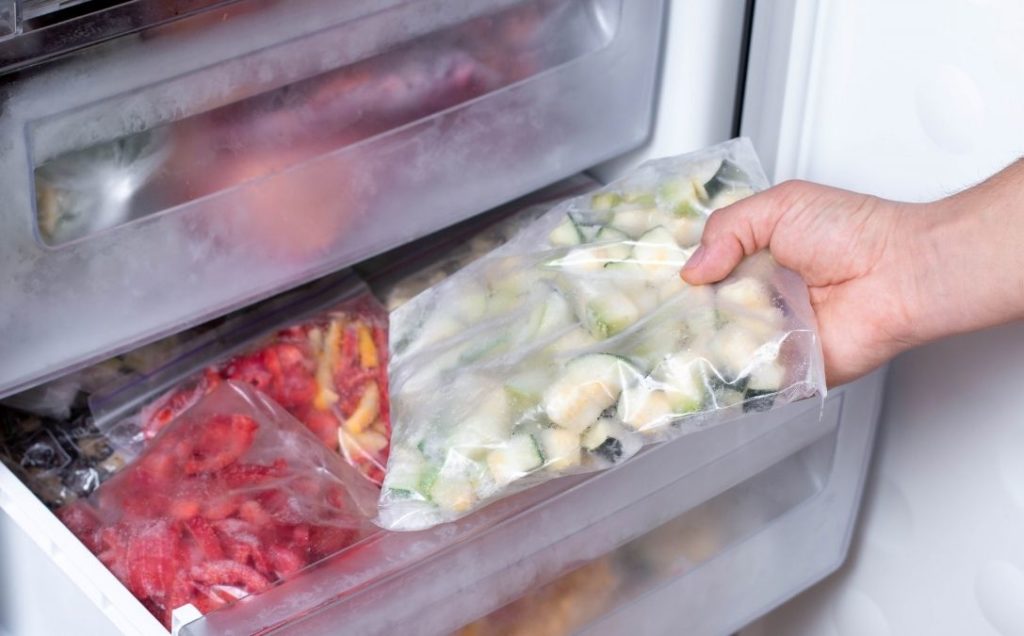 Your Ultimate Freezer Foods List
You will want to include dates on the storage containers before keeping them in the freezer for safety purposes. This way, you can be assured not to consume anything beyond freshness. The list below provides a list of foods to stock up in the freezer:
Vegetables – Vegetables are an excellent source of vitamins, minerals, and nutrients. And because the freezing process retains the nutrients in vegetables, you can stock as many veggies as possible. You can also grab some fresh herbs while shopping for vegetables. Place your chopped herbs in ice cube trays and top them up with boiling water before freezing them. Frozen herbs will help add freshness to your meals.
Fruits – Stowed frozen berries are a quick way to add nutrients to your morning smoothie. You can choose your preferred fruit – no restrictions.
Milk and Dairy Products – Add frozen cheese to your soups, stews, and pasta dishes. You can also have low-fat yogurt as a quick dessert for special events.
Protein Foods – Stock up salmon and fatty fishes as they are excellent sources of healthy fats. Lean meats and poultry are also freezer-friendly. For adequate thawing, transfer your protein food to the refrigerator a day before cooking. Nuts are prone to spoilage, so freeze them too.
Grains – Whole grain tortillas are perfect for freezing and can be used throughout the day. Unsurprisingly, you can also freeze bread and defrost a few slices when necessary.
Step 3: Update and Maintain Your Grocery List
You don't want to experience the frustrations you underwent while initially preparing your grocery list. So keep your list of items to ensure that you're buying everything you need for the week.
All thanks to technology, you can now download shopping apps for groceries. Some apps will provide leads on where to buy at discounted prices. For example, once you update your grocery list, the app might offer suggestions on some of the sought-after local supermarkets. This way, you don't have to undergo the hassle of walking from one shop to the other comparing prices. It is worth noting that these apps are only compatible with iOS and Android devices.
When creating your grocery list, it's important to consider your working schedule too. Think about how often you're available for shopping and some of the ingredients you already have at hand to avoid impulse buying. A good rule of thumb is to utilize the available resources to save money and reduce food wastage.
Tips and Tricks for Your 7 Day Family Plan
1. Use Your Leftovers
Nearly every household has leftovers, many of whom consider it a waste. Instead of tossing your leftover to the bin, keep it refrigerated and use it up within three days for safety. Better yet, you could freeze leftovers for a reasonable time if you don't plan to use them during the week. If you don't have tolerance for leftovers, consider cooking in smaller batches.
2. Strategize on Freezing
A freezer should be the kingpin of all your leftovers. You can prepare many batches of soups, stew, beans, and cacciatore chicken and freeze for weeks without losing their freshness and flavor. Alternatively, cook a double batch of the above sauces and freeze half for later.
3. Maintain Your Pantry
Planning is relatively more comfortable with a stocked pantry. Make sure that you're not running out of ingredients at inconvenient times. Stock up spices to quickly add flavor to your chicken and beans. You will also want to boost your appetite with a fresh slice of frozen lemon.
4. Prepare Components of Your Meals
Preparing meal components before actual cooking will not only enhance cooking but also save you time. For example, you can start by cooking a batch of tomato sauce as you prepare veggies.
You can use this sauce on pizza or roasted chicken that day and in lasagna the following day. Don't worry if there's still more left because you can always freeze for sandwiches and pasta throughout the week.
5. Have a Shopping Day
For a successful meal plan, you need to shop purposefully. Carefully read through your recipes and create a shopping list. Most meal planning services will let you extract ingredients from the recipes you already have at hand.
Bottom Line
Meal planning is the ultimate way to make healthier food choices while saving on time and money. At first, it can be frustrating putting together the menu, but planning for a family meal is dead simple with the above strategies. Choose a meal planning habit that best works for your lifestyle for complete effectiveness.
7 Day Family Meal Plan Examples