If you're looking for a non-messy, quick to prepare dinner, then sheet pan recipes might be your cup of tea!
All the ingredients go into a sheet pan, and all you need to do is bake and eat heartily.
With these recipes, you can enjoy all the time you aren't spending in the kitchen to watch your favorite movie, travel the world, or even explore a new hobby!
This post may contain affiliate links. Read my disclosure policy here.
Benefits of Sheet Pan Dinners
Most households prefer these dinner recipes for weeknights because they are easy to prepare. All you need to do is put your ingredients on a sheet pan and bake for a few minutes. The cleanup is also easier as everything cooks on one pan.
One of the popular sheet pan ideas includes chicken and vegetables; however, there's more to that. This guide will walk you through the easy sheet pan recipes you can serve within minutes, and the list is endless.
So without much ado, let's get into it.
18 Easy Sheet Pan Recipes
1. Baked Pineapple Teriyaki Chicken
Like any other sheet pan recipe, teriyaki chicken is cooked on one pan and ready in 15 minutes. The cleanup is also as easy as throwing out a sheet of foil.
The baked teriyaki chicken is often moist and tender, and the juicy pineapple toppings add some crispy texture to it. This hearty recipe is gluten-free and healthy so that you can use it throughout the week.
Get the Recipe
2. Honey Lemon Chicken With Asparagus
This super-delicious sheet pan lemon chicken and veggies is perfect for spring. This combination is much adored and cooks best when used with lemon and chicken tenders instead of lime and chicken thighs.
But if you prefer chicken thighs over chicken tenders, feel free to use them. Just make sure to adjust prep time as required for the complete effectiveness.
Get the Recipe
3. Greek Flank Steak Veggie Salad
Grilled vegetables go well with beef and make a perfect combo for a weeknight dinner. You can serve it as a beef/veggie dish and incorporate parmesan cheese rather than feta, whichever that's best for you.
However, most people prefer to add cheese because it's tastier than feta, primarily when used in this steak veggie salad.
Get the Recipe
4. Crispy Rosemary Chicken and Fries
Another sheet pan recipe that won't require much of your time in the kitchen is the rosemary chicken and fries. It takes only 15 minutes of simple prep to get these chicken breasts and potatoes in the oven.
You'll also want to choose small potatoes and cut them into quarters to promote even cooking. You can as well add baby carrots to the baking sheet to make it a complete one-pan dish.
Get the Recipe
5. Sheet Pan Chicken Fajitas
If you're fond of roasting your spices before baking, this recipe might be a perfect fit for you. Simply put all your ingredients on the sheet pan and let them marinate properly to produce one authentic flavor.
Alternatively, you can prepare the chicken, onions, and peppers the night before and allow the mixture to marinate in the fridge overnight. This will help you save a few minutes of your prep time.
Then all you need to do is spread your ingredients out on the sheet pan and roast for about 15 minutes. And voila! Your sheet pan chicken fajitas are ready. You can serve with cilantro, tortilla chips, lime juice, or your favorite toppings.
Get the Recipe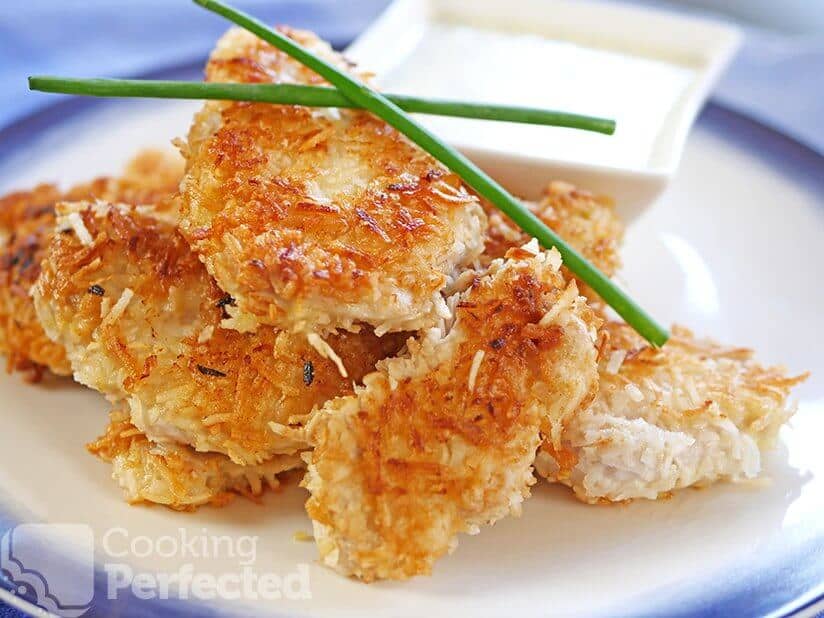 6. Coconut Crusted Chicken
This sheet pan coconut-crusted chicken goes well with bell peppers, mango salsa, and sweet potato fries. It makes a perfect dinner for a busy workday, and you can use the leftovers for lunch.
This recipe is pretty simple as it involves cooking on one pan. Simply coat the chicken, incorporate crispy veggies and then bake to get your crusted chicken.
7. Sheet Pan Hoisin Chicken
This sheet pan hoisin chicken with vegetables is easy to make and is bursting in flavors. The sweet and tangy Asian-inspired topping is made with honey, sesame oil, soy sauce, hoisin sauce, and some fresh ginger and garlic cloves.
All you need is a large baking sheet and an oven, and you're good to go. Use foil or parchment paper to line the baking sheet. This will mean minimal mess and enhanced cleanup.
What's more impressive about this sheet pan recipe is that it's fully customizable to the veggies at hand. Simply toss a bunch of whatever vegetables you have in the fridge.
Get the Recipe
8. Sheet-Pan Honey Chili Chicken with Veggies
For a quick and easy dinner for tonight, look no further than this hearty, nutritionally dense sheet pan recipe. All you have to do is coat your roasted chicken thighs in a spicy-sweet marinade and serve with a side of rice and sweet bell peppers.
Get the Recipe
9. Sheet Pan Honey Apricot Chicken and Asparagus
This sheet pan apricot chicken and veggies is a perfect combo for spring dinner and cooks entirely on a single pan. It takes only 10 minutes to prepare this hearty meal for your family and friends.
You can serve it with a simple side dish that doesn't require a lot of prepping and doesn't utilize any extra dishes. A few slices of crusty bread would also do – use them to soak up any additional apricot glaze. Microwavable pouches of rice will also make a perfect side dish for chicken with asparagus.
Get the Recipe
10. Steak With Lemon Zucchini
This is an easy to prepare sheet pan dinner recipe you can prepare for your family in a couple of minutes. It's delicious, and there's no doubt your friends and family will love this flavorful steak with lemon zucchini.
Roasting comes in the preparation of this easy sheet pan recipe. If you love roasting, this is going to be more interesting. You need to try out this recipe to see if your family will love it, and of course, they'll love it.
Get the Recipe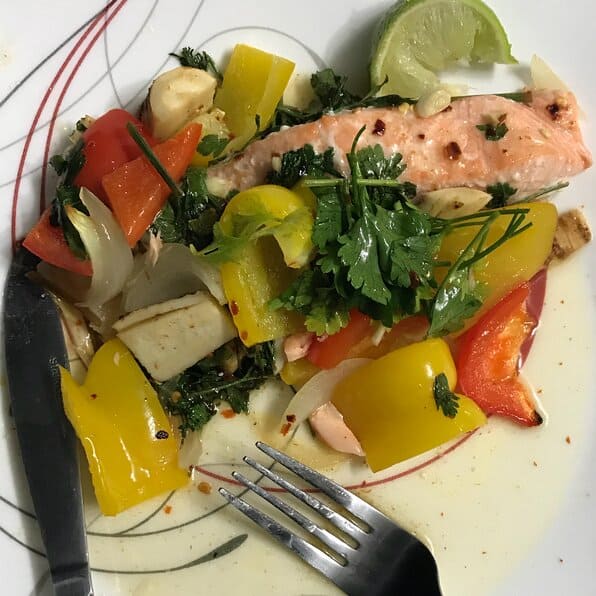 11. Sheet Pan Salmon and Bell Pepper Dinner
Your plates will glow when you finally prepare this healthy and straightforward dinner for your family. The secret tip you need to know is to add some starch to get a bit more volume.
If you're not a fan of potatoes, you can choose to go with any grain. Follow the recipe to the letter and see the outcome. You're free to test out different ingredients, but just ensure you're not overdoing it.
Get the Recipe
12. Paprika Chicken Sheet Pan Dinner
This is another perfect easy sheet pan recipe you should add to your list of recipes. Add brown sugar chili, and you'll have a tastier paprika chicken dinner with your family.
Because the veggies cook at different times, the best advice is to pull your pan at intervals and add the veggies during those intervals. Otherwise, this is a super easy recipe you can use to prepare your family the best dinner.
13. Sheet Pan Ratatouille
The sheet pan ratatouille is a French dish that is best for using up any ingredients you have in plenty during the fall. For example, this recipe would be best when you have so many heirloom tomatoes, eggplant, pepper, and zucchini. All you need to do is toss, roast, and serve your family.
There are a couple of ways to serve this dish. First, you can serve it as a vegan, and secondly, you can serve it with protein, and your family will still appreciate the delicacy you offered them. You've got to try this out today to have the experience of this French dish.
Get the Recipe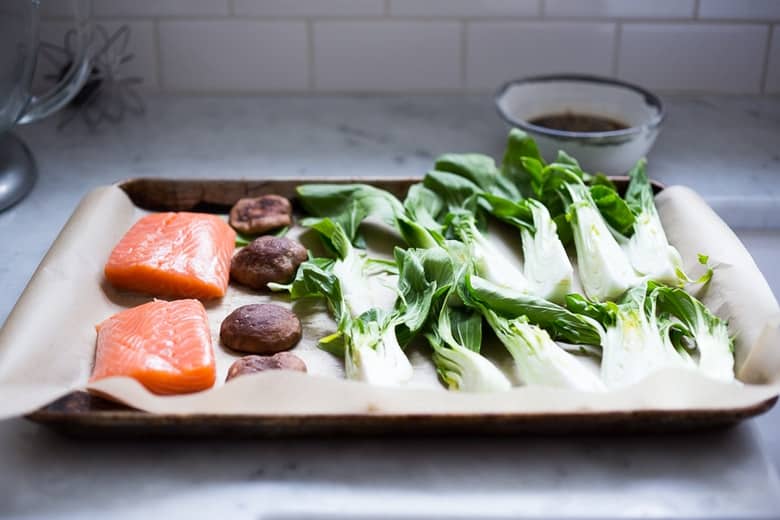 14. Teriyaki Salmon With Baby Bok Choy
If you're ever busy at work and only return home late in the evening, this teriyaki salmon with baby bok choy will be your best bet. It's easier to prepare and only takes ten minutes of hands-on work before you can let it in the oven to bake.
If you're a vegan, keep this with tofu if you've always loved to serve teriyaki salmon over brown rice. You could also decide to serve it plain if you're looking for a low-carb dinner. If you're looking forward to surprising your family with a special weeknight dinner, try this.
Get the Recipe
15. Sheet Pan Chinese Beef and Broccoli
You don't have to call for takeout because these sheet pan Chinese beef and Broccoli are healthier, have so much flavor, and are easy to prepare. It's best for weeknight dinner rotations, so no more procrastinating what your family will have on weeknight dinners.
There are no hassles that come with preparing these easy sheet pan recipes. And because this recipe is prepared on a pan, there's not much cleanup needed. Try out this recipe using the recipe guide below, and have an experience too.
Get the Recipe
16. Balsamic Pork Tenderloin in Oven
If you've craved something coated in rosemary balsamic sauce, you shouldn't skip this recipe. It's easiest to prepare, and you don't need many ingredients to get started. This recipe is rich in healthy veggies, and it's going to be perfect for your healthy growing family.
Get the Recipe
17. Baked Chicken Breasts With Veggies
This might need more ingredients than you expected, but you'll love the outcome of the ingredients used. While there are a bit more ingredients needed to prepare this, you will find it simple to prepare.
And even if you end up spending more time in the kitchen than you anticipated, you'll enjoy feasting on these baked chicken breasts with veggies.
Get the Recipe
18. Baked Sheet Pan Pork Chops in Oven
If you and your family can't stay longer without eating pork, this baked sheet pan pork chops in the oven recipe will come in handy. It's easy to prepare, and the recipe below will help you prepare the most delicious pan pork chops in no time.
Get the Recipe
Time to Get Cooking
These easy peasy recipes will come in handy on a busy workday and are best for spring dinners. If you haven't tried them yet, it's high time you make use of that oven in your kitchen. Now, you can stretch your legs, knowing that dinner will be ready in a few minutes.