You may find it challenging to create a memorable dish for a dinner party, especially when you want to make it extra special. There is no need to travel far to locate the perfect meal to make the evening memorable—just cook some potato soup.
Traditional potato soup is the go-to comfort food that never fails to satisfy. In addition, because it's a no-brainer, you may serve it any day. Besides, it will keep your visitors warm on even the coldest nights with its tasty and hearty cuisine.
You may be at a standstill questioning yourself, "am I only going to serve soup for dinner?" Since potato soup has a high carbohydrate content, it matches well with a wide variety of meals. Your potato soup, however, will be elevated to new heights with the addition of these delicacies.
So what are the excellent side dishes you can serve with potato soup?
This post may contain affiliate links. Read my disclosure policy here.
1. Sandwich
A sandwich is one of the most acceptable options if you are unsure of the perfect side dish to serve with your potato soup. Sandwiches provide carbs in the form of bread, leafy greens, and some protein. If you prepare a sandwich, especially with the correct ingredients, you'll create an excellent addition to your table.
You can add a delicious and meaty flavor to your overall experience by serving ham or roast beef sandwiches. Moreover, a bacon sandwich would also be an excellent alternative because bacon is used in making traditional potato soup.
Classic Coleslaw
Coleslaw is perfect for adding crunch and veggies to potato soup. You can prepare it by mixing shredded cabbage with mayonnaise, vinegar, sugar, or honey salt and pepper in a bowl before adding carrot slices for coloration.
Because of the acidity of the vinegar, it breaks down the fiber in the cabbage, making it easier for digestion. The carrots provide plenty of vitamin A and C and calcium, essential for healthy bones and teeth.
2. Baked Bean
Baked beans are also an excellent alternate side dish you can serve with your potato soup. This meal is hearty and filling; therefore, you can go for a couple of hours before getting hungry.
Additionally, baked beans have a lot of protein for bodybuilding and also are a source of fiber.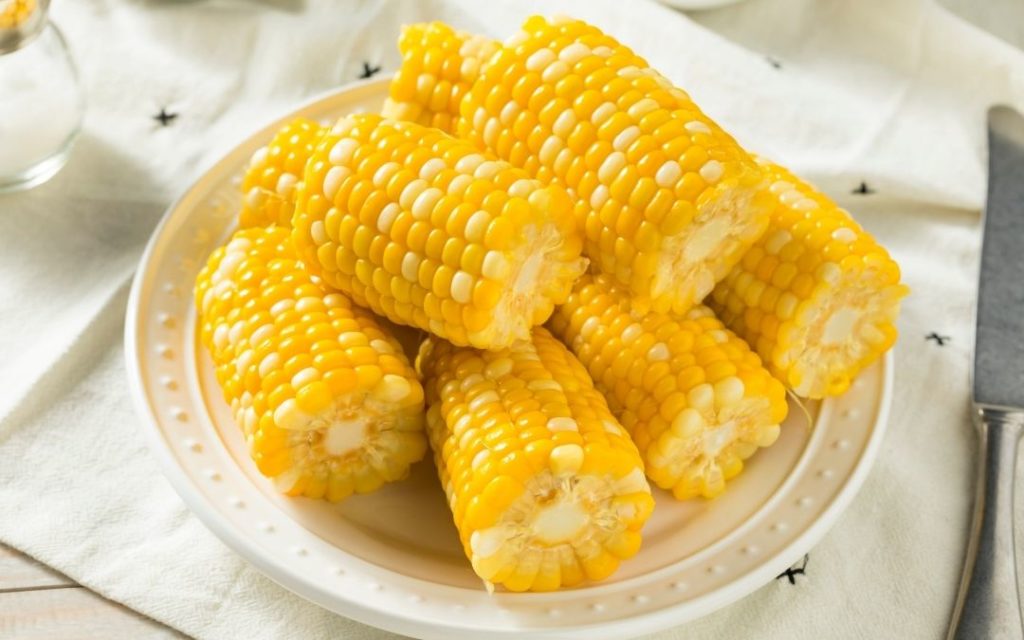 3. Corn On the Cob
With potato soup, corn on the cob makes a delicious side dish. Depending on your preference, you can boil the corn or steam it and then cut off the corn kernels before adding them to your soup dish.
As a result of its high fiber content, corn will keep you feeling filled for longer than other carbs such as bread and pasta. Additionally, it has a lot of anti-infective vitamin C, along with a lot of potassium and magnesium, which are both necessary for getting enough sleep.
4. BLT Chopped Salad
It's hard to go wrong with the classic BLT chopped salad when you're serving it with potato soup.
Crisp lettuce, juicy tomatoes, and smoky bacon make this sandwich a winner. Besides, you can choose between a tangy vinaigrette and a creamy ranch. Both options are delicious—you can make your own decision.
5. Buttered Cornbread or Muffin
As a result of the soup's flavor and ability to adhere to your ribs, butter cornbread or muffins are ideal partners. This type of comfort food is only delicious if it has both of these elements.
In addition, you won't feel bloated after eating this bread because it has just the right amount of carbohydrates. Butter is recommended when you need to experience the best effect.
6. Roasted Butternut Squash
A self-basting oven makes butternut squash a snap to prepare. Cut it into cubes and roast it for about 45 minutes, depending on the type of oven you've got and the size of pieces.
Another benefit is that the flavor does not overpower other flavors in dishes such as potato soup. Moreover, you can eat butternut squash without having to struggle chewing it up—if cooked properly.
7. Herb Buttered Bread
Using herb butter on bread is an excellent way to pair it with potato soup. With the addition of herbs and spices, this bread not only has the right amount of carbs, so you don't feel bloated later, but it also has an addictive flavor.
Besides, this type of bread doesn't require any grease or oil, so it has fewer calories than other types, such as olive loaves, which do.
8. Coconut Rice
Besides being tasty and easy to make, coconut rice merges nicely with various soups, especially potato soup. You won't feel sluggish later on if you eat something else afterward because this rice has just the right amount of carbs.
To make excellent coconut rice, use coconut water and coconut milk instead of water and regular milk.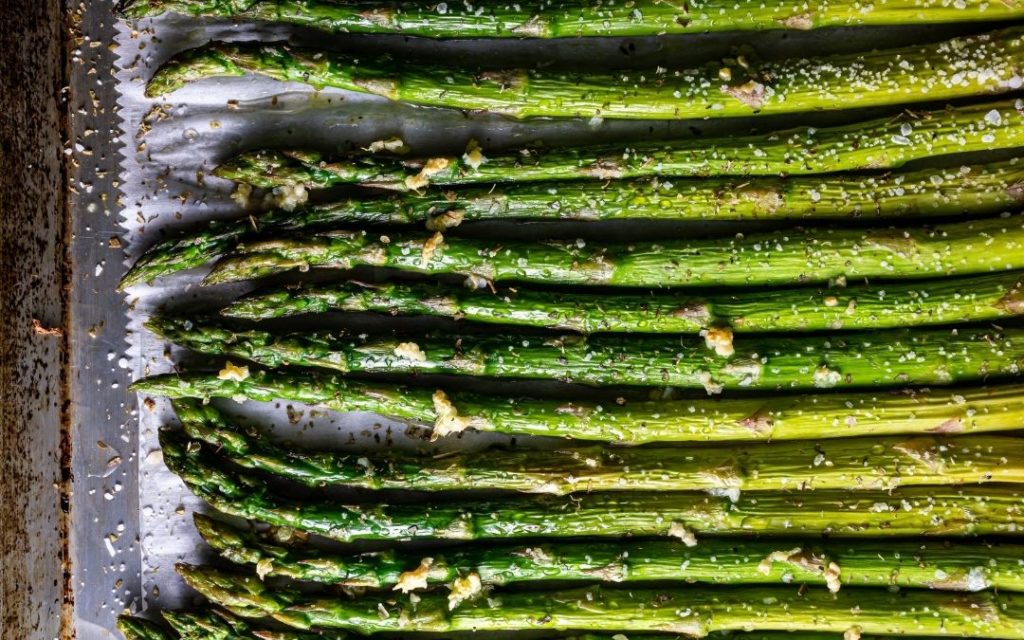 9. Roasted Asparagus
Roasted asparagus has natural sugars, making it delicious and crisp. It's one of the perfect side dishes for potato soup, not just because asparagus pairs well with potatoes but also because roasting them intensifies the asparagus's flavor.
The fact is, roasted veggies are usually healthful, so opting for them as side dishes should allow you to save calories elsewhere.
10. Tzatziki
Tzatziki is an excellent side dish for potato soup—it's savory and straightforward to prepare and complements various soups.
Furthermore, this type of dip contains enough carbs to keep you from feeling sluggish afterward if you eat something else. You can prepare this meal earlier when you are about to have a busy schedule.
11. Pomegranate Wild Rice Salad
Fresh and filling, this wild rice salad is a great way to start the day. Wild rice, pomegranate, almond, and goat cheese combine perfectly with potato soup to create a delicious dish.
To make the perfect dressing, create a lemon honey mixture that is sweet and tart. You will round off your supper nicely with this.
12. Mashed Potato Puffs
It may appear redundant, but a combination of mashed potato puffs and potato soup will still make you an excellent dish. If you have leftovers of mashed potatoes, here's how to make these luscious, creamy puffs:
By using butter or cooking spray, grease a muffin tray, mix the mashed potatoes, eggs, cheese, chives, and bacon in a dish—season to taste with salt, pepper, and other seasonings of your taste and preference.
Preheat the oven to 400°F for 20 minutes. Fill muffin cups halfway with the mixture, then top with the shredded cheese. Serve plain or with sour cream on top.
13. Dinner Rolls
Dinner rolls are also a sure bet side dish alternative. If you want to absorb the soup's richness, these fluffy buns do a fantastic job, and they're addicting.
Remember to butter your dinner rolls as well—It enhances the already mouth-watering taste of the rolls.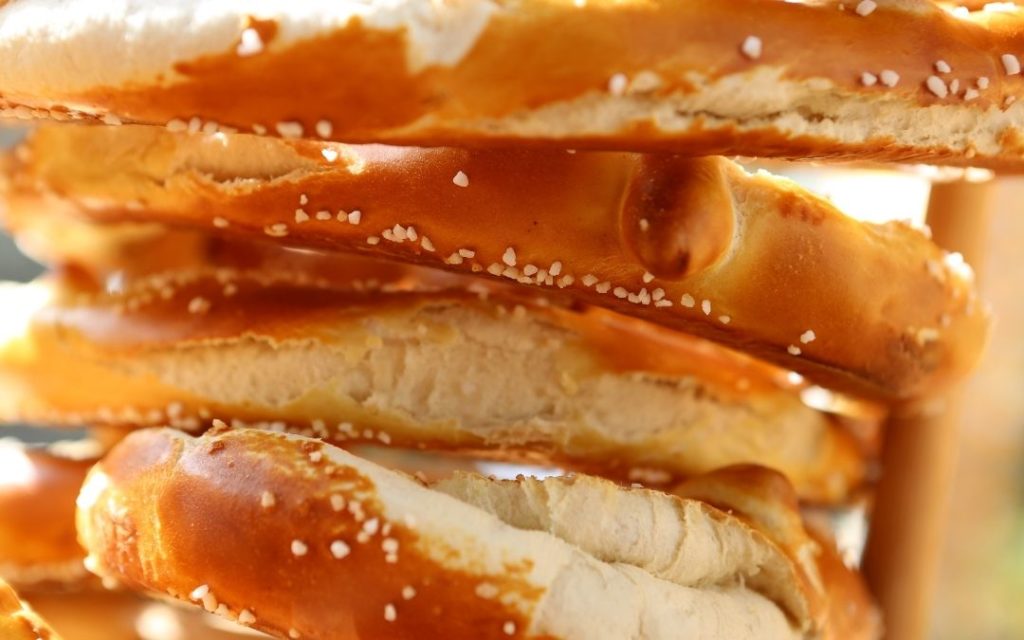 14. German Pretzels
Potato soup with German pretzel sticks is a perfect match—they're soft, chewy, and salty, making them irresistible to eat. Served with potato soup, it is the ideal combination of flavorful and saline!
15. Roast Beef Sandwich
Bread and soup go together like peanut butter and jelly. This warm soup with soft and chewy bread has a certain appeal!
Besides complementing flavors, this combo provides a filling meal—the perfect combo to lift your spirits and fill your stomach.
16. Spicy Sautéed Kale
Savory kale goes well with a hot bowl of potato soup. If you cook some kale in a pan, it will soak up all the flavors you add to it. If you want to make kale more interesting, add a little spice, garlic, and scallions.
17. Garlic and Shallot Country Style Bread
When it comes to potato soup side dishes, bread is a dream come true. Hot and warm like a hug, bread and soup are darling.
Some of the perfect bread toppings include shallots and garlic, which you probably would not imagine while thinking of bread baking.
18. Chicken Legs
When it comes to meats to pair with potatoes, chicken is another excellent option—a reason why grilled chicken legs and potato soup form a popular superb pairing.
Use cayenne or chili pepper to spice up your chicken dish. Potatoes have a high carbohydrate content, which helps to balance the Picante of the chicken. Together, they provide a delicious flavor combination.
19. Garlic Bread
Toasted garlic bread drowned in rich potato soup is the ultimate comfort food—it's a match made in heaven.
Your favorite bakery indeed makes the tastiest garlic bread, but you can make it yourself just as quickly. Baguette or French bread slices are fried in melted butter until golden brown and then served. Garlic powder completes the dish, which is best served hot.
Related Questions
1. How Do You Fix Bland Potato Soup?
Add milk to the recipe and season with salt and pepper to taste. With the potatoes, you can add dried dill or fresh dill at the end. Caramelize the ingredients before cooking to produce a wonderful flavor.
2. Why is my potato soup gloopy?
Before cooking, the potatoes should not be diced too small. Otherwise, you may get a thick, sticky texture from too much starch released into the broth when they're not adequately cooked. The soup will turn slimy due to the starch bonding with the broth.
3. Why Did My Potato Soup Turn Brown?
Potatoes contain an enzyme called polyphenol oxidase, which is responsible for the brown hue. The potato oxidizes and turns brown when the enzyme reacts with the air. When potatoes are swiftly placed in hot water or on a hot heating surface, the enzyme that keeps the potatoes from browning is deactivated.
4. Is potato soup better the next day?
Whatever stew or soup you're preparing, if it tastes nice the first day, it's going to taste wonderful the second and third days. On the other hand, if it tasted fantastic on the third day, it probably tasted great on the first day as well.